Mark Valencia endures painful comparisons
It all depends how you take your opera. Straight? A splash of operetta fizz? Maybe you go for cocktails with snazzy names like 'music theatre'. Of course, no self-respecting connoisseur would so much as sniff at a musical: nasty, sickly things, strictly for the uneducated palate.
We anglophones love our classifications, but there's a danger in them. It's all too easy for one person's pigeon hole to become the next person's ghetto, until we are left with 'neglected masterpieces' that no one seems able to cope with. Recently the London stage has been graced with two such cinderellas: Leonard Bernstein's so-called 'problematic' musical (or is it an operetta?) Candide, and Benjamin Britten's early, Auden-penned operetta (or do I mean opera?) Paul Bunyan. The question of categorisation clearly extends to both interpretation and interpreters, with the Royal National Theatre (specialist subject: the spoken word) in no doubt that Candide is a thoroughgoing musical, actor-led with belters to the fore, whereas in her newly-revived 1997 Paul Bunyan for the Royal Opera director Francesca Zambello plays the grand opera card for all it is worth (which, in the case of this fine but stubbornly untheatrical work, is not very much). Yet for all that we equate opera with trained classical voices and musicals with the world of popular song, the differences between the two are little more than labels of convenience. Is Bernstein's own recording of Candide (on DG, that most aristocratic of classical record labels) any less a musical because Christa Ludwig and Nicolai Gedda are on the platform and the LSO is in the pit? Alternatively, was Philip Brunelle somehow cheapening Britten when he cast a country singer, Pop Wagner, as the balladeer Narrator in his Virgin Classics recording of Bunyan? Then again, if we appreciate Brunelle's solution, as I do, does it follow that we should demur when Richard Hickox and the Royal Opera prefer the golden baritone of Peter Coleman-Wright to deliver Auden's deathless doggerel? Really, if it works does it matter? All too easily we can end up chasing our terminological tails until some bore pops up to remind us yet again that the first musical was really Carmen, and of course, Puccini was merely the Andrew Lloyd Webber of his day.
Enough musing; on to the productions. The perceptive reader will have realised by now that I have been avoiding the issue, so painful are the comparisons. Pain first, then. Hickox's Bunyan is a musical joy, but Zambello's production rarely rises above the shoddy and workaday. Did this flaccid staging really win an Olivier Award last year? In the director's defence it has to be said that the production has clearly been cast for vocal strength ahead of stage presence (which ought to please Chandos Records, whose microphones were draped all over Sadler's Wells last week), yet frankly the theatrical limitations of Zambello's company are not much of a problem when she so rarely stretches them beyond the occasional am-dram mannerism. And in a show – let's not duck the word – with such an important role for the chorus the director should be capable of bringing more than simple geometry to the art of ensemble staging. More than once I found myself glancing wistfully in the direction of Trevor Nunn, sitting a few rows away, whose mastery of crowd work could have injected some much-needed zest into an evening that was sadly low on Brittenesque frissons. A few individual performances managed to transcend the general ordinariness: Lilian Watson was splendid as always playing first a goose then the dog Fido (a distant cousin of her celebrated Vixen, perhaps?), Henry Moss sparkled as the Western Union Boy and Graeme Broadbent camped a riotous Ben Benny, all baked beans and big bass booming. Sadly though, some of their colleagues (and many of the Royal Opera Chorus) would be well advised to supplement their vocal resources with some acting lessons and a spot of P.E.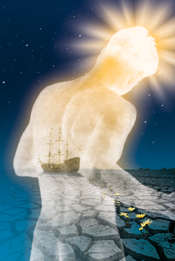 Over at the RNT, John Caird, Nunn's partner-in-crime from such big-ensemble shows as Les Misérables and Peter Pan, has directed a Candide to silence the carpers for good. This is no surprise: it seems to me that Caird brings a potent combination of sensitivity, stagecraft, intellect and joy to everything he touches, so I can think of no one better qualified than he to tame this camel of a Bernstein-Wilbur-Hellman-Latouche-Sondheim-Wheeler (Hugh)-Parker (Dorothy)-Wells (John, now de-credited) creation into an entertainment that is not just coherent but thrilling and new. With an admirable economy of means Caird's revised book cuts a swathe through the work's troubled history and goes right back to Voltaire – not just for its text but for its storyteller, since now it is the great satirist himself (Simon Russell Beale) who guides us gleefully through his picaresque tale. In a production with no discernible weak link apart from Daniel Evans's slightly thin-voiced Candide – ah, but how vividly he acts the part! – there are outstanding performances from Beverley Klein as the Old Lady (she of the one buttock), Alex Kelly as a bitterly ironic Cunegonde and Denis Quilley, London's first Candide forty-odd years ago, as Old Martin. Of all the stars, though, none shines more brightly than Mark W Dorrell's virtuosic 14-piece band who, in Bruce Coughlin's crafty new orchestrations, take us on a tour of Europe, South America and Hell with astonishing precision and panache. Candide continues in repertory in the Olivier auditorium for the next few months, and call it what you like – musical, operetta, who cares? – it is musically, lyrically and at last dramatically glorious, and this is by far the most convincing production of it I have yet encountered.
Copyright © Mark Valencia, May 9th 1999

Candide (Leonard Bernstein, lyrics by Richard Wilbur et al.)
Royal National Theatre, London
Paul Bunyan (Benjamin Britten, libretto by W H Auden)
The Royal Opera at Sadler's Wells, London