RENAISSANCE

'Jennifer Paull gives sparkling performances.'
The oboe d'amore revitalised-
with BASIL RAMSEY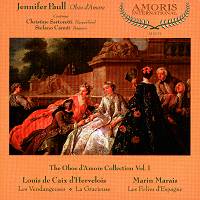 Jennifer Paull - who writes for Music & Vision occasionally - has had a love affair with the oboe d'amore for much of her life, playing professionally in the UK for years before moving on. This set of three records cuts a swathe through the repertoire, particularly highlighting pieces sbe has commissioned to swell a rather lean repertoire of music for oboe d'amore and piano.
Record one is devoted to music by two late 17th century French player- composers whose facility with short dance pieces has enabled Jennifer Paull to follow the composers' own suggestion to play on winds, thus demonstrating the oboe d'amore's facility with this mannered and fascinating music, plus use of imagery and ornamentation in the Tableaux Galants style. Louis de Caix d'Hervelois and Marin Marais were both masters of the bass viol, and indeed of composition. This elegant and often flamboyant music is infectious to the ear if not necessarily to the senses. Jennifer Paull gives sparkling performances [listen - track 5, 00:00-01:00].
Copyright © 8 July 2000 Basil Ramsey, Eastwood, Essex, UK
CD INFORMATION - AMORIS AI SC VI
<< Music & Vision home
Stephen Caplan >>
To listen to the sound extracts in this review
you may need to download a RealNetworks realplayer.