GERSHWIN ARRANGEMENTS

PETER DICKINSON listens to Michael Finnissy as arranger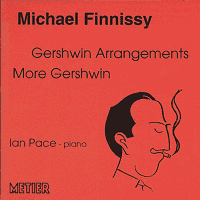 It was time for the late twentieth century to respond to Gershwin with some new arrangements of his songs. Not jazz, where the whole thing gets lost, but a more classical approach. Such arrangements could either be authentic, in period style, or else radical. Anything in between - like some characterless rearrangements heard in the BBC Proms in London a few years ago - is a waste of time. As an arranger Finnissy is radical - as we should know from his own music. So the stage is set on this CD for something special with pianist Ian Pace, a dedicated exponent of Finnissy who performed the complete piano works to mark his fiftieth birthday in 1996. Everything on this CD was premiered by Finnissy himself - the Gershwin Arrangements in 1988 and More Gershwin in 1990. The two sets are available from Oxford University Press.
As an indication of the general style one might say that this is how Charles Ives would have arranged Gershwin if he'd still been composing when Gershwin wrote his songs. As in Ives the melody is there but the decoration qualifies it in a fascinating way. With Finnissy you can practically always hear the tunes, which are indestructible. Not all of these are familiar and some which Finnissy has selected are difficult, if not impossible, to find in print. Why on earth is there still no Collected Gershwin Songs easily available?
Let¹s jump in at the deep end by listening to I'd rather Charleston from Lady be good (added to the London production in 1926). It opens with wild flourishes; then you can pick out the melody of the verse; and, after more flourishes, the chorus follows with much of the 1920s spirit (transmuted) of the original [listen - track 17, 0:00 - 0:55].
Finnissy is usually more meditative than that. Here's the first one in the collection - How long has this been going on? (cut from Funny Face but relocated to Rosalie in 1926). Here Finnissy ingeniously mixes up the instrumental introduction to the verse, the verse itself and the chorus in a kind of stream-of-consciousness idiom that's brushed past Scriabin [listen - track 1, 0:00 - 0:40].
Another Gershwin classic is A foggy day in London town from the 1937 film A Damsel in distress. At the start Finnissy helps himself to the chime chords of the introduction, then picks up the right-hand parallel chords for the verse, but he constantly modifies the harmony with substitions and additions [listen - track 3, 0:00 - 0:28]. This is what happens next in the chorus. There's the familiar till-ready and then the tune but the harmonic backing is unpredictable, out of focus [listen - track 3, 0:43 - 1:15].
Amongst Gershwin's lesser-known songs is the title song from the 1937 film Shall we dance. Although still recognizable this tune gets one of the rougher treatments, elbowed into seven-beats-in-a-bar, and larded with chords that might have come out of Messiaen. But the succeeding They're writing songs of love, but not for me is melancholy and poetic [listen - track 7, 0:00 - 0:35].
The only song Finnissy uses which is also contained in Gershwin's published set of 18 of his own transcriptions (1932) is his early 1919 hit Swanee, one of the group of nine here called More Gershwin. The verse comes first; then one rather straightforward (for Finnissy) run-through of the chorus; another verse; another chorus, more subdued; and finally, avoiding anything obvious, a magical rapt coda. You'd think the piece had finished at 2'44" but it goes on to become one of the longest at 4'23". But it's the chorus of Swanee that everyone knows best and Finnissy's version gives a final indication of his personal angle on one of the greatest melodists of the last century. Everything is beautifully played too [listen - track 20, 0:43 - 1:08].
Copyright © 30 July 2000 Peter Dickinson, Aldeburgh, UK
CD INFORMATION - METIER MSV CD92030
PURCHASE THIS DISC FROM CROTCHET
VISIT THE METIER SOUND AND VISION WEBSITE
<< Music & Vision home
Ikon of St Hilda >>
To listen to the aural illustrations in this review,
you may need to download RealNetworks' realplayer G2.