INVENTIVENESS

'...a resourceful CD to extend our knowledge of Bach's
seemingly infinite ideas with chorale-based music.'
Bach's captivating qualities -
with BASIL RAMSEY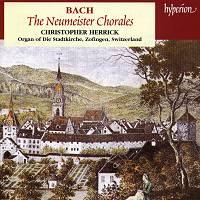 Drawing entirely from the unique Neumeister collection of 17th and 18th century chorale preludes - the autograph of which is housed at Yale - has given Christopher Herrick the opportunity to present 36 of these preludes as certainly from the pen of JSB. There is a close correlation between them and the existing Orgelbüchlein, quite apart from specific elements of compositional technique that are common to JSB and his level of creative invention.
When selection from a group of pieces becomes excessively difficult because differing virtues clamour for evaluation, there comes the realisation that choice for one might have less value for others. JSB has that effect upon performers. It arises again here faced with a group of Bach's unknown chorale preludes, which should excite the attention of organists who treasure what they know and keenly anticipate acquaintance with the recently discovered [listen - track 6, 0:00-0:52].
Christopher Herrick has chosen the smaller choir organ that Metzler built in 1979 at the opposite end to the main instrument at Stadtkirche in Switzerland's Zofingen. Thus the colours endemic to these preludes are in glittering array, sometimes in delightful contrasts, and sometimes rich and powerful [listen - track 14, 0:00-0:55].
There is no feeling or evidence of a cosmetic exercise to justify a risk with little-known and perhaps second-rate music by Bach. Hyperion has produced a resourceful CD to extend our knowledge of Bach's seemingly infinite ideas with chorale-based music. Christopher Herrick projects the pieces with his secure and imaginative approach to the organ and its repertory.
Copyright © 12 August 2000 Basil Ramsey, Eastwood, Essex, UK
CD INFORMATION - HYPERION CDA67215
PURCHASE THIS DISC FROM CROTCHET
<< Music & Vision home
Martinu Quartets >>