Global Fascinations and Sophistications
Nikolai Kapustin Piano Music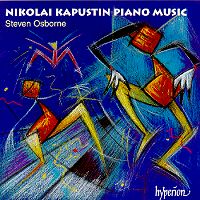 Hyperion Records is full of new surprises. Has anybody heard of Nikolai Kapustin, who studied piano at the Moscow Conservatoire with that doyen of teachers Alexander Goldenweiser? Six piano concertos, ten sonatas (including those for other instruments) and a feast of solo piano works are his compositions to date, but he also made a name for himself as a jazz pianist with his own quintet and concerts for the Central Artist's Club Big Band, later touring Russian with Leg Lundström's Jazz Orchestra.
I thought I might be listening to Oscar Peterson swinging in a new style when listening to Stephen Osborne's wonderfully creative playing - I am sure this disc of Sonatas 1 and 2 and the 24 Preludes in Jazz Style will catch out many out who listen for the first time without seeing the liner frontispiece, for there is an inner discipline here which fuses the improvisation and extemporisation in jazz to classical structures with renewed vigour and impulse that denotes a master at work.
Osborne's note is humorously authorative as any good piece of writing should be, but he doesn't give all the secrets away concerning his quite obviously meticulous preparation beforehand for what must have been a highly enjoyable series of sessions. Prelude 19 is an example of free-ranging skills [listen - track 9, 0:36 - 1:12], and if you think Earl Hines at his peak had the world's keyboard speed record, just listen to the close of Sonata 2 [listen - track 21, 2:32 - 3:32].
Copyright © 23 August 2000 Bill Newman, Edgware, UK
CD INFORMATION - HYPERION CDA67159
PURCHASE THIS DISC FROM AMAZON
PURCHASE THIS DISC FROM CROTCHET
<< Music & Vision home
Liszt >>
To listen to the aural illustrations in this review,
you may need to download RealNetworks' realplayer G2.