<< -- 3 -- Peter Dale AMERICAN VOICES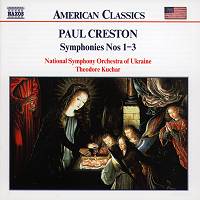 Paul Creston (1906-1985) enjoyed much steadier success during his lifetime than Antheil. Awards, appointments, commissions (particularly for film music) and performances flowed, though the highest critical esteem eluded him.
His music is readily approachable, engaging the heart in pleasant groves of melody all overhung with verdure of lush orchestration [listen - Creston CD track 1, 0:37-1:37].
These three symphonies are sophisticated sequences of mood music, occasionally enlived by rhythmic energy (Creston wrote ten volumes of textbooks on rhythm) [listen - Creston CD track 6, 2:12-3:12], but for the most part essays in the primary colours of the emotional spectrum: With Majesty; With serenity; With Deep Emotion; and so on. They are beautifully crafted as they amble along. They are never glib, never sententious, but cliché is never far away either.
The Third Symphony from 1950 is a musical triptych on the Life of Christ. The themes, Creston says, originated in Gregorian Chant though his harmonies mask most of his sources at the same time as they load the emotional dice [listen - Creston CD track 9, 1:28-2:28]. This music is not so much the vital drama of an urgent Giotto as the pietistic rhapsodising of a somewhat cloyingly massaged mysticism. Respighi did it all much better I think, both as religious painter and as Gregorian flavourist.
Once again The National Symphony Orchestra of The Ukraine, under Theodore Kuchar, give fine performances.
Copyright © 2 September 2000 Peter Dale, Danbury, Essex, UK
CD INFORMATION - NAXOS 8.559033 - GEORGE ANTHEIL
PURCHASE THE ANTHEIL DISC FROM AMAZON
PURCHASE THE ANTHEIL DISC FROM CROTCHET
CD INFORMATION - NAXOS 8.559034 - PAUL CRESTON
PURCHASE THE CRESTON DISC FROM AMAZON
PURCHASE THE CRESTON DISC FROM CROTCHET
<< Music & Vision home
South American Getaway >>
To listen to the aural illustrations in this review,
you may need to download RealNetworks' realplayer G2.