INITIAL REACTION

Icelandic Music, with BASIL RAMSEY
Iceland has benefited from excellent artists in all fields of such activity. Amongst twentieth-century Icelandic composers, Leifur Þórarinsson played an important national role out of his own training in Austria and the USA, and then he returned, also to be involved in the artistic affairs of his country.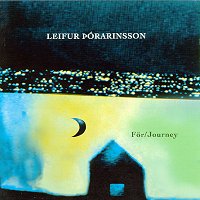 Two of his important orchestral works are paired on this CD, revealing a composer intent upon a nationalistic style filtered through his own grasp of the eclectic language that generally settled upon Europe after the serial discipline had made its mark. Þórarinsson's music displays a sensitive ear for colour, perhaps a little above the norm, which is no bad thing considering the medium and potential. His driving force is melodic cells powered equally of rhythmic propulsion and textural densities. This equation still requires motivation, applied here with a real grasp of invention, lifting the whole construction clear from its mooring.
I have not 'lived' with this music long enough to refine my initial reaction, but there is an unmistakeable feeling of creativity fermenting as each movement gets under way. The performances, both from the orchestra and the soloist in the concerto, also speak of professionals respecting a fellow artist.
Of the Concerto I find the virtuosic fiddle writing unusually intense and fascinating as it swirls in and around the orchestral kaleidoscope[listen - track 4, 1:00-1:48]. A cadenza further concentrates the prima donna role, which is dramatised by a length comparable to the surrounding movements. These unusual traits do not finally distort the overall balance, rather they fall into a perspective once we familiarise ourselves with the content.
Symphony No 2 was premiered by the same orchestra in 1997, only five months before Þórarinsson's early death at 63. Whereas the concerto is dramatic and elated in turn, this one-movement symphony is made of sterner stuff, quelling orchestral riots and mysteriously hinting at the Wedding March from Mendelssohn's Midsummer Night's Dream. Its material and treatment have connotations that hint at unsung thoughts, and might have some bearing on the event that followed soon after.
Copyright © 13 September 2000 Basil Ramsey, Eastwood, Essex, UK
ICELAND MUSIC INFORMATION CENTRE
<< Music & Vision home
Sing, ye Heavens >>
To listen to the aural illustrations in this review,
you may need to download RealNetworks' realplayer G2.
Record Box is Music & Vision's regular Wednesday series of shorter CD reviews