Global Fascinations and Sophistications
Ferruccio Busoni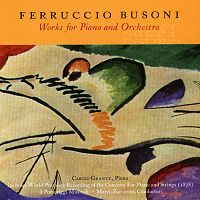 Despite our knowledge of Busoni's commanding stature as a pianist, there have been few opportunities in the concert world for making a conclusive case for his stature as a composer-innovator of importance in the development of musical form and taste. A musician fully conscious of past composers' achievements stemming back to the classical age, forward to a time of richly-conceived romantic ardour, and beyond that to experiments with atonality. Busoni felt duty bound to strive for release from that to discover a personal language.
We now have much music that signifies the quest of his endeavours. There's the hour-long Piano Concerto with men's chorus; a beautiful Violin Concerto that Szigeti first championed; works for piano on disc in magnificent recordings by Egon Petri and others; the incandescent Berceuse Elegiaque for orchestra, operas Arlecchino, Doktor Faust and Turandot.
Look in the current record catalogue and you will discover far more that indicates a revival, and there is the significant biography by E.J.Dent for further studies. No one can deny artists' allegiances from the past and present, but if I single out the pianist Carlo Grante for his part it is for his electrifying performances at London's Wigmore Hall.
Grante's latest CD provides three works for piano and orchestra (I Pomeriggi Musicali and its conductor Marco Zaccarini) as a new point of departure. Concerto per pianoforte accompagnamente di quartetto ad arco, written when Busoni was just 12 may recall Field, Hummel, Mozart and Beethoven, but the setting here upgraded for string orchestra takes us beyond the classical era into the romantic peregrinations of Mendelssohn and Schumann in its added colourful charms. Concertstück für Pianoforte mit Orchester (1890) won Busoni the Rubinstein Prize [listen -- track 5, 0:00-1:00].
Although the influence is Brahms (the D minor Piano Concerto) the distinct bitonal interplay overlays the grandiosity, whilst Indianische Fantasie für Klavier mit Orchester (1913-1914), evolving from an interest in American Indians some three years earlier, involves experimental harmonies that surround an anthology of their themes. Fascinating to hear, the performances admirably catch the flavour of invention. I look forward to further Busoni in the series.
Copyright © 15 November 2000 Bill Newman, Edgware, UK
CD INFORMATION - MUSIC AND ARTS CD 1047
PURCHASE THIS DISC FROM AMAZON
PURCHASE THIS DISC FROM CROTCHET
<< Music & Vision home
Bax >>
To listen to the aural illustrations in this review,
you may need to download RealNetworks' realplayer 8.