Global Fascinations and Sophistications
Alexander Voormolen
Moving to Holland, we find orchestral rarities of an opposite kind in the shape of premiere recordings of music by Alexander Voormolen (1895-1980). Dutch music suffered for the lack of a nominated saviour between the 17th century Sweelinck and Diepenbrock who spanned the late 19th-early 20th century, a versatile minor master, spotlit by the efforts of Chandos Records. Datewise closer to the latter, Voormolen instead looks back to earlier European influences like Gluck and Weber in a theatrical sense, allowing his violins to slide up to the tonic at the start of movements, or in his use of percussion instruments to provide satire.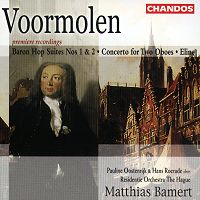 Baron Hop -- the subject of two four-movement Suites -- was a famous diplomat and inventor at the centre of Hague court life at the end of the 18th century. We are introduced to other personages as we listen. In Suite 1, the Overture presents us to the Baron himself, then there is a Saraband Fagel (well-known Clerk of the Court) followed by Polka Cupido-Citron and March of the Hereditary Prince-Stadtholder. In the second Suite the Overture is entitled Viva Caroline (the Princess was the daughter of Prince William IV), Minuet Princess Royal, Air William V and Rondo Wolfenbettelo (commander of the Dutch armies and the new William's consultant) [listen -- track 12, 0:00-1:00] make a convivial gathering much similar in style and character to Strauss's setting of Moliere's Le Bourgeois Gentilhomme.
Then there is music inspired by Voormollen's French connections, particularly his mentor Roussel and his friendship with Ravel, who found him a teaching job at The Hague's Royal Conservatory, Schmitt, Casella, Delius, Ricardo Vines and Marguerite Long. Concerto for two oboes and orchestra has a definite Gallic tinge, and Eline, an orchestral nocturne, is the subject of Couperus novel, full of melancholy, unfulfilled love and nervous exhaustion. Trust Matthias Bamert to come up, once more, with something fresh and stimulating. The Hague Residentie Orchestra officiates.
Copyright © 29 November 2000 Bill Newman, Edgware, UK
CD INFORMATION - CHANDOS CHAN 9815
PURCHASE THIS DISC FROM AMAZON
PURCHASE THIS DISC FROM CROTCHET
<< Music & Vision home
Bach cantatas >>
To listen to the aural illustrations in this review,
you may need to download RealNetworks' realplayer 8.