PASSION AND INTEGRITY
'Peter Bruns and Roglit Ishay prove convincing advocates for this singleminded and almost obsessive music.'
Remembering Ernest Bloch -
with ROBERT ANDERSON
Bloch had a fine reputation by the outbreak of the Second World War, based partly on the impact of the 'Jewish' works that culminated in the powerful Sacred Service of 1933 (nightmare year for Jewry, as it was to prove), but also on a highly original string quartet, piano quintet, concerto grosso, and violin concerto. His voice was unmistakeable as he gave utterance to 'the venerable emotion of the race that slumbers way down in our souls' (Bloch's words). With the Second String Quartet (1945) it seemed as if Bloch might wrest from Bartók primacy in this most exacting of media.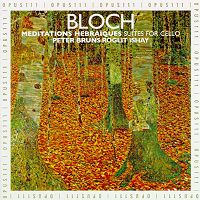 The next three quartets were not quite on that level, but it was a corpus that did not merit the total silence accorded it in Paul Griffiths quartet book of 1983. Bloch's stock inevitably slumped after his death (1959), but the passion and integrity he brought to his music, influenced not at all by passing fashion, will always secure it admirers, and not only among those with Jewish links and sympathies (a Palestinian following may well exist). Yet Bloch's music is unthinkable apart from his Jewish heritage, which is both starting-point and overall inspiration.
Copyright © 24 December 2000 Robert Anderson, London, UK
CD INFORMATION - OPUS 111 OPS 30-232
PURCHASE THIS DISC FROM AMAZON
PURCHASE THIS DISC FROM CROTCHET
<< Music & Vision home
Recent reviews
Icelandic Christmas music >>
To listen to the aural illustrations in this review,
you may need to download RealNetworks' realplayer 8.