Global Fascinations and Sophistications
A Faust Symphony
There have been several recordings of Liszt's epic A Faust Symphony, but I have always gone back to the Beecham version on EMI for its balanced drama and poetry. In the 78rpm era, British Columbia had an exciting version with French forces under the direction of Selmar Meyrowetz, but this complied with the original version, omitting the culminating finale. Here, Mephistopheles is finally defeated, and male chorus and solo tenor intone the Chorus mysticus (concluding Part II of Goethe's play) in which all past happenings are reflected, all that was lost is corrected -- women's divinity leading us on high.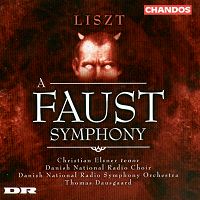 CD versions now include this final section, but the most recent with young Danish conductor Thomas Dausgaard (a pupil of the late Norman del Mar) with the National Radio Choir and Orchestra, has a tremendous sense of atmosphere portraying Faust at his most impulsive -- demonstrative, dominating and tender. Gretchen is his ideal with her delicacy and restraint, but Mephistopheles in all his fiendish devilry aims to thwart the lovers. The phrasing and sonorities have the strains of a vanished world overlaid with past traditions, qualities often associated with this orchestra, who came to prominence under Busch and Malko in the 1940s. After Mephistopheles has returned to his underworld, the transition to a state of calmness and nobility is deeply felt, Christian Elsner and the choir's singing a high point of the interpretation [listen -- track 3, 21:33-22:33].
Copyright © 13 December 2000 Bill Newman, Edgware, UK
CD INFORMATION - CHANDOS CHAN 9814
PURCHASE THIS DISC FROM AMAZON
PURCHASE THIS DISC FROM CROTCHET
<< Music & Vision home
2 Harpsichords >>
To listen to the aural illustrations in this review,
you may need to download RealNetworks' realplayer 8.