THE ESSENTIAL ACORN
'The Armenian orchestra under Tjeknavorian gives a competent performance throughout ...'
The music of Glinka -
with ROBERT ANDERSON
A Life for the Tsar is concerned with the Russian 'Time of Troubles', that thirty-year period from the death of Ivan the Terrible to the election of the first Romanov in 1613. The villains of the piece are the Poles, who had supported the claims of Ivan's young son Dmitri (he died mysteriously in Boris Godunov's reign) in the persons of two false Dmitris aspiring to the Russian throne. Though the first false Dmitri was shot from a cannon, and the second was summarily bumped off, the Poles remained a major menace, with their king Sigismund master of Smolensk and ready to pounce.
A Polish attempt to waylay Michael Romanov in the neighbourhood of Kostroma was thwarted by the ingenuity and loyalty of Ivan Susanin, ready to die rather than let the young Tsar be captured. The subject was the more relevant after Napoleon's onslaught, and it was Tsar Nicholas himself who produced the accepted title of the opera rather than the original 'Ivan Susanin', revived in 1939 by the Soviets. The story has such deep roots in Russia that a friend of mine with no sense of direction and capable of leading anyone anywhere is nicknamed Susanin.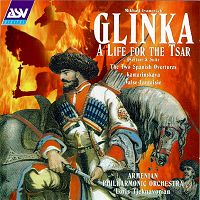 The only trouble with this selection from the opera is that the Poles appear the heroes. Apart from the overture and the high tragedy at the start of the epilogue in Red Square, all the music is from Act Two, the Polish ball. The Poles assume their man will be tsar, are disconcerted at the news of Romanov's election, but remain determined to force their will. A string of brilliant Polish dances sets the scene, of which the Krakowiack is the most characteristic and exciting [listen -- track 3, 0:00-1:21].
Copyright © 17 February 2001 Robert Anderson, London, UK
CD INFORMATION - ASV CD DCA 1075
PURCHASE THIS DISC FROM AMAZON
PURCHASE THIS DISC FROM CROTCHET
<< Music & Vision home
Recent reviews
Johann Friedrich Fasch >>
To listen to the aural illustrations in this review,
you may need to download RealNetworks' realplayer 8.