BEAUTIFUL VISION
'This is a spectacularly interesting recital ...'
The Golden Voice of the Prague National Theatre -
with RODERIC DUNNETT
The voice of Beno Blachut belongs to an earlier age : arguably to the era of Caruso, emitting a kind poignant allure one thought died out in the l960s with Wunderlich, but which survived in Eastern Europe with tenors such as Jószef Simandy (in Hungary), in Czechoslovakia with Blachut, and (in certain veins) Wieslaw Ochman in Poland.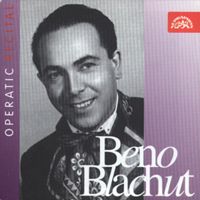 This is a spectacularly interesting recital : to get a feel of Blachut at his finest, one should perhaps start at the end. Try, for instance, his 'Nessun dorma' (intriguingly sung, like much of this fine recital, in Czech) : 'Nikdo nespí' [listen -- track 16, 0:41-1:40]. It's one of the most stirring versions I've heard, and while dating from long before the three tenors were even thought of, it's as fresh as if recorded yesterday.
The last track, a generous extract from From The House of the Dead, confirms that Blachut was made for Janácek. He has the right kind of tense Angst and angry fretfulness to handle this Luka scene from Act I superbly. In this fine extract with conductor Bohumil Gregor at the helm, you feel you're getting right into the bones of Janácek. It's as vivid as being in Prague to see the opera live.
Copyright © 3 March 2001 Roderic Dunnett, Coventry, UK
CD INFORMATION - SUPRAPHON SU 3423-2 201
PURCHASE THIS DISC FROM CROTCHET
PURCHASE THIS DISC FROM AMAZON
<< Music & Vision home
Recent reviews
Sirena Recorder Quartet >>
To listen to the aural illustrations in this review,
you may need to download RealNetworks' realplayer 8.