Give and Take

BASIL RAMSEY enjoys
companion organ CDs
Christchurch in New Zealand has an excellent 1997 Rieger organ in its Town Hall, and an organist with a technique to match. Most importantly, the two make good music together. Furthermore, a situation like this requires a musical balance, Bach one moment and Sousa the next.
Martin Setchell is a Britisher who emigrated to New Zealand and combines a music lecturing post at Christchurch University with organ playing. He obviously enjoys the challenge.
The first record combines genuine organ music with transcriptions, and manages the ultimate test of making the latter appear to be close cousins of the former.
Amongst 37 pieces divided between the two CDs, Bach's Toccata, Adagio and Fugue in C retains its dramatic qualities with rhythmic snap to just the right consistency [listen -- MANU 1539 track 6, 0:00-1:15]; likewise Franck's A minor Choral breathes naturally as the pulse's give-and-take is applied.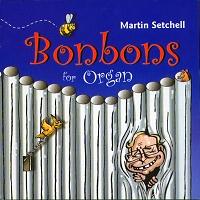 Martin Setchell pops in and out of the serious and entertaining with ease and spontaneity. Amongst the favourites are the Flight of the Bumble Bee, Dance of the Sugar Plum Fairy, Washington Post, a three-piece suite of his own, and Guy Bovet's pounding Hamburger Totentanz [listen -- ACD 600 track 22, 2:52-3:57].
Copyright © 4 April 2001 Basil Ramsey, Eastwood, Essex, UK
CD INFORMATION - ODE RECORDS MANU 1539
PURCHASE MANU 1539 VIA NZORGAN.COM
CD INFORMATION - ATOLL ACD 600
PURCHASE ACD 600 VIA NZORGAN.COM
VISIT THE CHRISTCHURCH RIEGER ORGAN WEBSITE
PURCHASE ACD 600 FROM ALLEGRO MUSIC UK
<< Music & Vision home
Recent reviews
Handel's 'Silla' >>
To listen to the aural illustrations in this review,
you may need to download RealNetworks' realplayer 8.
Record Box is Music & Vision's regular Wednesday series of shorter CD reviews