8. A Double Man's Last Harvest
Vaughan Williams' Symphonies 8 and 9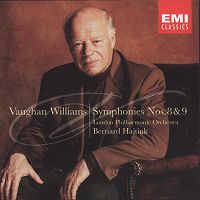 Vaughan Williams was in his eighties when he composed his last two symphonies, numbered 8 and 9. Peripheral contemporaries such as George Lloyd and Havergal Brian totted up to or substantially exceeded such symphonic plenitude, though their late works in the genre hardly preserved, as did VW's, the creative spark undimmed. Admittedly, VW's Eighth, when it appeared in 1953, was at first somewhat condescended to as a 'light' work in comparison with the middle period symphonies; and some may think that a not unreasonable assessment of a piece that has no movement in sonata form, and gives each movement a title, posing a threat to symphonic abstraction. The first movement, for instance, headed Fantasia [listen -- track 1, 6:05-7:05], recalls the 17th century English convention in its episodic nature whereby one thing leads to another, like a motet setting consecutive verses of a verbal text, though here there is none. Yet the more one looks into, and listens to, this subtle movement, the more one realises that its conception as a set of variazioni senza tema or (as the composer later glossed it) as 'variations in search of a theme', the more one recognizes that the notion of a search must involve some kind of symphonic quest, whether or no 'the' theme is found. It is not fortuitous that the key is D minor, a tonality traditionally associated with quest, especially by the Viennese classics, and perhaps by the High Baroque masters as well. The vagaries of the widely modulating variations ask unanswered questions; and the open-ended concept seems to have encouraged the composer to call on an array of exotic instruments such as we don't normally associate with VW's music. The point of these instruments turns out to be in no way picturesque, but rather hints at unknown, and possibly unknowable, realms of being. Unknowingness is the more piquant at the end of so long and vigorously creative a life.
Copyright © 26 May 2001 Wilfrid Mellers, York, UK
CD INFORMATION - EMI 5 57086 2
PURCHASE THIS DISC FROM CROTCHET
<< Music & Vision home
Recent reviews
Barbirolli >>