<< -- 2 -- Roderic Dunnett IN THE NEWS
Despite an element of self-borrowing (Il Turco in Italia furnishes several items) and some loss of refinement in the change from a Parisian to a Neapolitan setting, La Gazzetta's imbecillic comic libretto, based on a pompous arriviste who advertises his daughter's eligibility in the paper, only to be bested by her and her young lover, is as nimble as Mozart. Brilliant recitative and a clutch of splendid ensembles aside (including a zestful buffo male trio and classic 'amazed' chorus), the area where Rossini consistently scores is in his precise definition of character.
There are plenty : the resistant, part-coloratura daughter (Canadian Carla Huhtenen, overreliant on front vowels yet splendid whether fainting or fuming); the canny boyfriend (the resourceful Robert Poulton : 'In bosco ombroso' revealed him at his best); the more lyrical Alberto (tenor Mark Milhofer, on rapt form for the melting 'O lusinghiero amor'); the shy Doralice (Tuva Semmingsen, a mellow Norwegian mezzo, beautifully picked out by two clarinets, then oboe and pecking strings); a Despina and Don Alfonso-like duo of 'hotel staff' (Kate Flowers and Andrew Slater); and the Molièresque buffo father, Don Pomponio Storione (Donald Maxwell), whose ostentatious motorized arrival betrays the classic hallmarks of the worldly nouveau riche and set the perfect tone for a thoroughly diverting evening.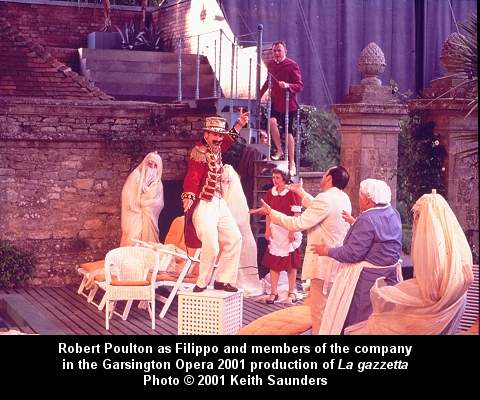 Copyright © 9 August 2001 Roderic Dunnett, Coventry, UK
<< Music & Vision home
Proms at St Jude's >>