<< -- 2 -- Peter Dickinson GOLDEN AGE
New York in the 1920s was a cauldron of new ideas from which America's maturity in serious music started to emerge. As in the nineteenth century the American tour could be a profitable venture for visiting celebrities -- not only for popular figures but also for the bringers of new ideas. Stravinsky and Bartók made their first visits in the 1920s and by the end of the 1930s they, Hindemith and Schoenberg were all living in the US. But immigration, with consequences for serious music as well as the pop scene, had started well before that. Leo Ornstein escaped from Jewish persecution in Russia, arrived in 1907 and was one of the first. He was born as long ago as 1893 and BMI have just told me that he is 'alive and well, and still an active BMI writer'. Not bad at that age? Ornstein anticipated Henry Cowell in building a career out of his own percussive piano playing. Copland went to one of Ornstein's recitals in 1919 as an impressionable youth before he went to Paris and became a Boulanger pupil. By 1916 both Varese and Dane Rudhyar had reached New York from France. Varese also knew how to promote himself and his interests. He began to write a different kind of music after he arrived in New York City. After periods of frustration in his later life and neglect after his death, Varese has now come into his own as a classic of hard-edged, intransigent modernism. But Rudhyar and Ornstein are only just starting to emerge painfully from a long obscurity. This could change more rapidly now thanks to the diligent exploration of Carol Oja, who points out that there was a sizeable community of composers active in New York in the 1920s where some of the neglected figures were particularly influential.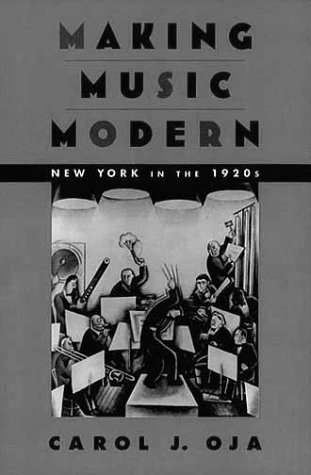 There were different factions and overlapping organisations in New York but many of these composers shared a crusading belief in dissonance as a moral imperative possessing a spiritual dimension. This was what Ives and Ruggles regarded as their own virile approach to sound. Ironically many of these male creators were supported by rich women patrons and Oja does a fine job in acknowledging these unsung heroines of the New York avant-garde -- Gertrude Vanderbilt Whitney, Alma Morgenthau Wertheim and Blanche Walton. In Philadelphia, Mary Louise Curtis Bok, who started the Curtis Institute and supported the brash and often unreasonably demanding George Antheil. Some women, such as Claire Raphael Reis, Director of the League of Composers from 1923-1948, operated as skilled entrepreneurs chairing committees and putting on concerts. Minna Lederman, who edited the periodical Modern Music for many years, recalled that in those days the rich felt responsible for supporting the non-commercial aspects of the arts. Elliott Carter, in that recent BBC interview, regretted that this kind of patronage was soon lost. Literature and painting benefited from similar largesse. Oja also uncovers some less than worthy sentiments from some of the male composers only too anxious to bite the female hand that was feeding them.
Copyright © 18 September 2001 Peter Dickinson, Aldeburgh, Suffolk, UK
PURCHASE CAROL OJA'S BOOK FROM AMAZON
PURCHASE HOWARD POLLACK'S BOOK FROM AMAZON
<< Music & Vision home
Erik Satie >>