<< -- 3 -- Roderic Dunnett MIXED RESULTS
Carmen's choreographer, Radu Poclitaru, has got into the bones of the opera and produced some brilliantly incisive comment. His quintet of Moldovan classical dancers (two boys, three girls) is terrific, the lead girl especially : it's a nice feature of Chisinau performances that not only do they (often) contain this element, but they do it so well. When the dancers ushered in Petru Racovita's nicely resonant Escamillo en route to the ring, it was dazzling. These dancers' coordination alone would be worth bringing the Royal Ballet School to see.
Michael Bath's surtitles, operated with professional efficiency by Alexandru Gangurean, were notably effective. The remaining chorus costumes were striking, not least for the semichorus that frames the start of Act IV. The chorus moves midway through Act III were admirable; Act II, like act I, proved more hit-and-miss, with a lot of rather pointless table juggling (Chisinau's doubling of stage managers with barmen was rather well plotted in Cavalleria Rusticana and Bohème; here, it was haphazard), which led to two items, a sword and a stool, being knocked over by principals. But most entries and departures were surprisingly smooth : the Act 2 chorus exit, with well-coordinated colours, resembled a sequence of nineteenth century French paintings. Excellent.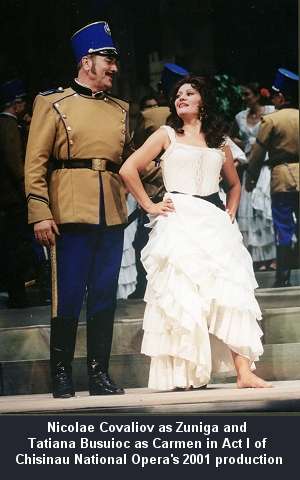 Almost all principals have weaknesses in this Carmen, except arguably for Liliana Lavric's Carmen (doubling with the equally admirable Tatiana Busuioc) -- subtle and understated, if never quite threatening, and a heart-warming piece of singing, for which conductor Alexandru Samoila kept the orchestra reined in at suitably low volume. Nicolae Covaliov's Zuniga got Act I off to an uncomfortable start, from which it never quite recovered. The Micaela of Natalia Josan (like her Nedda in Pagiacci) begins unevenly, though blossoms alongside Don José (despite one appalling piece of frontstage stand-and-deliver plotting in Nick Hogarth's serviceable -- if never wholly involving -- production). Anatol Arcea's Dancairo -- a shortish, older fellow clearly in command -- is attractive-voiced, though sang too quietly for Liverpool's capacious Everyman Theatre. Yet for all the hushed tones, Arcea when paired with the younger, beautifully-voiced Vasile Cheptenari (Remendado here, one of the ablest performers in last season's Pagliacci, and a splendid Emperor in Turandot) made a fine, confidentially conspiratorial, tenorish duo.
Nicolae Busuioc's Don José had a lousy first act -- flat in tone, his French pretty rough and ruskyish, with a flood of strange back vowels from somewhere out of Balakirev. The slowish Act I staging felt not helped by the determination of conductor Alexander Samoila (Chisinau's incisive former music director) to space things out where they needed pushing along (as he did so well, I felt, in Turandot). True, there were dividends to this grander-paced vision of Carmen (which has precedents), but alas, they didn't register till at least halfway through Act II, by which time a lot of sagging had crept in.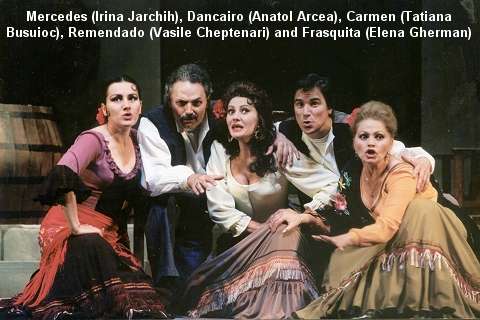 Even there, only Elena Gherman's Frasquita had the right kind of trouble-free oomph of delivery, together with Petru Racovita's admirable first entrance as the toreador, Escamillo. There was a particularly fine expectant build up here, one of two or three achieved in this production, in marked contrast to that tensionless José-Micaela duet.
Copyright © 11 October 2001 Roderic Dunnett, Coventry, UK
OPERA AND BALLET INTERNATIONAL
<< Music & Vision home
Stephen Dodgson >>