<< -- 3 -- Wilfrid Mellers SECOND SIGHT
Alkan's best-known work -- there are by now several alternative recordings -- is the immense set of Etudes in all the minor keys, opus 39, by now accepted as a masterpiece even within the conservatory curriculum. For some time Alkan's recorded reputation was carried on the broad backs and flighty fingers of Lewenthal and Ronald Smith: now the catalogue of recording Alkan pianists is extensive; and a relatively recent recruit -- Marc-André Hamelin -- may perhaps come closest to the necromatic dazzle that the composer's own playing was said to display.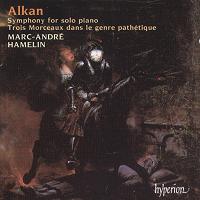 This new Alkan disc from Hamelin caps an earlier CD that climaxed in the variation set, Le Festin d'Aesope, with which the opus 39 minor-keyed Etudes end; under Hamelin's hands that immediately 'effective' work proves to have his tragic monumentality, for its veerings and tackings between crazy comedy and fearful frenzy climax in a coda that Alkan justly labels 'granitic'. Perhaps these almost surreal oscillations of mood and manner are related to the imperial glamour of the Parisian world outside the recluse's study; that royal fanfares should be metrically (and hilariously) punctured by barking dogs anticipates Mahler's parodies of militarism.
Copyright © 1 December 2001 Wilfrid Mellers, York, UK
CD INFORMATION - HYPERION CDA67218
PURCHASE THIS DISC FROM CROTCHET
PURCHASE THIS DISC FROM AMAZON
<< Music & Vision home
Recent reviews
American Piano Sonatas >>