<< -- 3 -- Bill Newman CELEBRATORY PARADE
Centre place at the back was an enormous hoist for lifting equipment, whilst on the left in front of the stage a crane for positioning sound apparatus. I was busy dodging out of harm's way as I was waiting for international celebrities to arrive. At the opposite end Jimmy Lock and his Sonus 2001 team of engineers were amidst their technical equipment.
Pianist Jean Yves Thibaudet, who has his own Spoleto residence, had floated into my vision with his vivid pink shirt and shiny black trousers. He was following seven singers -- Kristina Hansson, Yvonne Howard, Sandra Zeitzer, Cesar Hernandez, Neal Davies, John Marcus Bindel and Clive Bailey already engrossed in excerpts from The Last Savage -- for me a fascinating preview of a Menotti work I was unfamiliar with. Jean Yves and Richard Hickox knew each other's performing styles very well -- they were due to perform Ravel's G major Concerto at the BBC Proms two weeks later. There are pitfalls for the orchestra and section soloists throughout, and their scintillating reading marked their combined respect for a score demanding brilliance and poetic insight.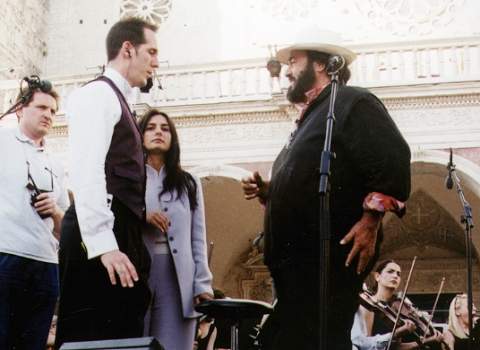 A considerable audience stir indicated the arrival of Luciano Pavarotti, his vari-coloured Italian shirt reflecting rays of sunlight everywhere, trousers supported by an enormous gold-plated belt. On his head a white trilby. A brief 'Allo' then straight into the Act one duet from La Bohème with his partner Carmela Ramiglo.
The penny soon dropped -- he was singing everything falsetto, pitching an octave lower. A few words, then he vanished into his dressing room back stage. Maestro Menotti had arrived and was seated in the front row. After a respectable interval Francis leant over towards the Maestro: 'Would you talk to Pavarotti -- he doesn't feel up to singing tonight, and is not in his best voice.' In contrast, Placido Domingo was radiating confidence. He was in remarkable voice, beaming affectionately on all admirers and blowing kisses to friends and associates. In a flash he had commanded the stage for his aria 'No puede ser!' from Pablo Sorozabal's La Tabanera del Puerto.
Copyright © 4 December 2001 Bill Newman, Edgware, UK
THE SPOLETO FESTIVAL WEBSITE
BILL NEWMAN'S VISIT TO THE 2000 SPOLETO FESTIVAL
<< Music & Vision home
The name of the game >>