<< -- 4 -- Bill Newman EPISODES FROM A MEMORY BANK
Basil Cameron, along with Sir Malcolm Sargent and Sir John Barbirolli took part in a weekly television series called The Conductor Speaks. He described the interpreter's responsibilities during the first movement of Beethoven's Symphony 8 as a 'series of signposts'. These corresponded to letters of the alphabet used in the conductor's score and the orchestral parts, partially to indicate suitable stop-starting points in rehearsal and also to indicate the introduction of new material in the movement. 'A Plain Man's Guide to Music', maybe, but the clarity of enunciation, plus the music examples, must have won him converts.
A spoken introduction to Sibelius' Four Legends of Lemminkainen, prior to his first UK broadcast performance with the BBC Symphony Orchestra, was fascinating. Why one of the major record companies did not invite him to record for them is incomprehensible.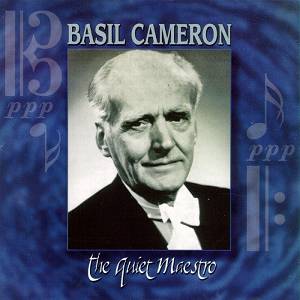 Basil Cameron's intuitive grasp of a wide range of the orchestral repertory became his speciality, plus music unknown and new, all with a minimum of rehearsal. At his finest, he was a devoted Sibelian -- listen to the development section during the last movement of Symphony 2 (part of The Quiet Maestro CD reissue BC101) and you sense the natural expertise of woodwind players performing their different roles to perfection: Tapiola is unhurried, noble, restrained and suggestively mysterious, hardly dramatic in feeling but powerful in other aspects; and not dissimilar to Sibelius's great champion Robert Kajanus's Society recording. There is also to be found a great affinity with the music of Hérold, Rossini, Handel, Grieg, Rimsky-Korsakov, Auber, and Schubert.
Copyright © 29 March 2002 Bill Newman, Edgware, UK
<< Music & Vision home
Victor Herbert >>