A friend in need
The Opera Omnibus production of Mascagni's 'L'Amico Fritz',
enjoyed by RODERIC DUNNETT
Pietro Mascagni's relatively compact 3-act opera L'Amico Fritz was first staged in 1891 at Rome's Costanzi Theatre, where Cavalleria Rusticana triumphed a little over a year earlier, and where the composer was to enjoy further successes with the orientally-set Iris (1898) (a generic forerunner of Madam Butterfly), Le Maschere (1901) -- a success in Rome though a failure elsewhere -- and, much later, Lodolotta (1917), his setting of the French novelist Ouida.
Mascagni chose as his librettist for L'Amico Fritz not Giovanni Targioni-Tozzetti, who supplied the book of Cavalleria and was to furnish him with five more libretti, but Nicola Daspora, who based the story on the historical novel (and subsequently, play) L'Ami Fritz (1864) by the celebrated Alsatian writing partnership, Emile Erckmann and Pierre-Alexandre Chatrian.
Devoid of the punch of fin-de-siecle verismo (Manon Lescaut was two years off and La Bohème was not staged til 1896; Czech verismo was still in its infancy, with Foerster's Eva not staged till 1899, though the play appeared in 1889) Mascagni's L'Amico Fritz is an amiable, humorous tale, lacking in any real vigour (Mascagni had actually requested a simple libretto 'with almost a flimsy plot' : he certainly got it; Verdi opined that it was the feeblest libretto he had ever encountered) but attractively focused round the characters of the prudent, unstuffy Rabbi, David (baritone), the generous-hearted bachelor landowner Fritz Kobus (tenor) and the naive young girl Suzel (soprano), daughter of a tenant, who causes Fritz to lose his bet that he will never marry. Good, straight stuff, with some nice touches of characterisation : done well (ideally, the opera calls for a capacity to reveal real tenderness onstage), it has at least the power to charm.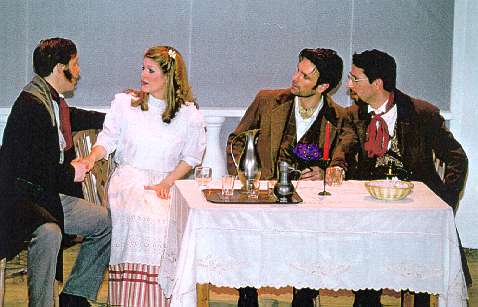 Copyright © 8 March 2002 Roderic Dunnett, Coventry, UK
RODERIC DUNNETT'S OPERA OMNIBUS MONIUSZKO REVIEW
RODERIC DUNNETT'S CHISINAU CAV PAG REVIEW
THE OPERA OMNIBUS WEBSITE
<< Music & Vision home
Schoenberg >>