<< -- 3 -- Roderic Dunnett A friend in need
David and Suzel's recitatives promised better : the 'Bible' scene (in which the Rabbi instructs Suzel and gets her to read a passage from the story of Isaac and Rebecca; interestingly, Erckmann-Chatrian set their story in their native Alsace-Lorraine, which was home to three-quarters of France's Jewish population) was charming; some squealy strings and Fritz's determination not to shed his disfiguring coat detracted from what followed. A good chorus, improved brass and the greys and beiges of an effective final lighting fade, made amends.
Clare McCaldin's cheerful gipsy Beppe, a lively baggage of a performer (despite some outrageous overacting -- but had anyone advised her otherwise?) and a slight tendency to sharpen under pressure, contributed one of the best voices, a clear, well-focused mezzo-soprano enhanced by appealing woodwind and bassoon flickers. With Mrs Peachum, Prince Orlovsky, Olga (in Onegin), Hansel and Peep-bo amongst her repertoire, plus appearances with both the English National Opera and Royal Opera House choruses, lead roles ranging from Rameau to John Adams (and a Harry Potter soundtrack), she would be a boon to any opera company, fledgling or established.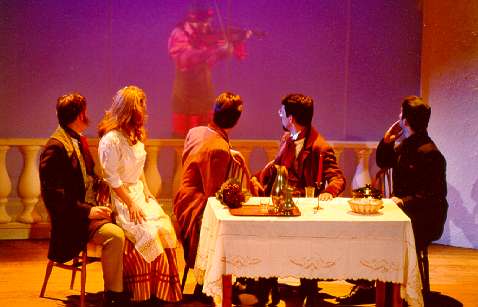 Copyright © 8 March 2002 Roderic Dunnett, Coventry, UK
RODERIC DUNNETT'S OPERA OMNIBUS MONIUSZKO REVIEW
RODERIC DUNNETT'S CHISINAU CAV PAG REVIEW
THE OPERA OMNIBUS WEBSITE
<< Music & Vision home
Schoenberg >>