<< -- 4 -- Keith Bramich A JAPANESE 'RIVERDANCE'?
Away at sea with his men, Otomo-no-Dainagon eventually finds and fights his dragon, taking the neck ball, but he goes down with his boat, sinking from sight in a stylised battle scene with a Carl Orff-like chorus and complex visual and aural textures.
The King of the Moon (actor Danjuro Ichikawa, baritone Akiya Fukushima) warns his daughter that since she lost her dragon ball, she will now become sick and die. Her body must change to that of a dragon and return to the moon. The Princess acts out her distress, asking for one more sight of Otomo-no-Dainagon: 'Please come back to me, faster than the wind -- I want to see you'. She calls his name and he appears, holding the pink and white head-sized lit ball, offering it to her in a soprano-tenor love duet love with chorus passages and laser effects, during which they eventually embrace.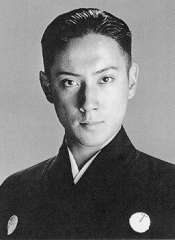 'Please be my wife ... what is your answer?'
'I must go back to the moon ... I'll become a dragon'.
'You're a dragon?'
'Yes -- I know you fought against a dragon because the dragon was me. To your true heart I wanted to answer with my true heart -- that's why I did it.'
She climbs high up the steps at the back of the stage. He pleads with her. (Reds turn orange; blues darken towards purple.)
'The ball will cure your Emperor's sickness', she tells him. 'Sayonara'. She's hoisted up in the air on ropes, like a puppet, and flies away, to greens, blues, purples and laser light, as they both cry in agony.
Copyright © 19 May 2002 Keith Bramich, London, UK
<< Music & Vision home
Bernard Roberts >>