Power of understatement
RODERIC DUNNETT at a new production of
Euripides' tragedy 'Bacchae', with music by Sir Harrison Birtwistle
Aeschylus, Sophocles, Euripides : who was the best tragedian? It's a bit like that other disastrous beauty contest, Paris's judgment on Athene, Hera and Aphrodite. That decision unleashed a ten year war; the three Greek poets wrote plays at a time (470-405) when even the brief absence of war was a luxury. If Athens wasn't locked in deadly struggle (one she finally lost) with Sparta and her Peloponnesian allies, she herself was suppressing the rest of Greece.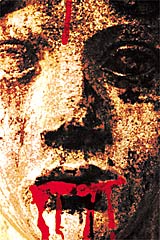 Each playwright has his fan club. But if you wanted to choose Euripides (c485-406 BC), you could easily do so on the grounds of the Bacchai (or Bacchae), his late, great masterpiece, produced posthumously around 405 -- the play in which later writers found Christian overtones, and on which Polish composer Karol Szymanowski based his Sicilian opera, King Roger -- about the afflictions of the Theban royal family (the same siblings' disaster tale gave us Sophocles's Oedipus trilogy and Aeschylus's The Seven Against Thebes).
Bacchai, which has just opened at the Royal National Theatre, London, in Sir Peter Hall's production, with a shy but haunting musical score by composer Sir Harrison Birtwistle (the grizzled old team reunited), tells of the legendary Theban founder, Cadmus, who sowed the dragon's teeth in the rich black soil of Boiotia and acquired, one way or another, two warring grandsons -- one divine (thanks to his mother, Semele's seduction by Zeus) and one human. Euripides tells how the divine grandson, Dionysus, descends from the East on the fledgling city of Thebes leading a crowd of maenadic worshippers -- prototype hippies -- to wreak havoc on the civic order, which Cadmus's other young (mortal) grandson, Pentheus, is vainly trying to impose.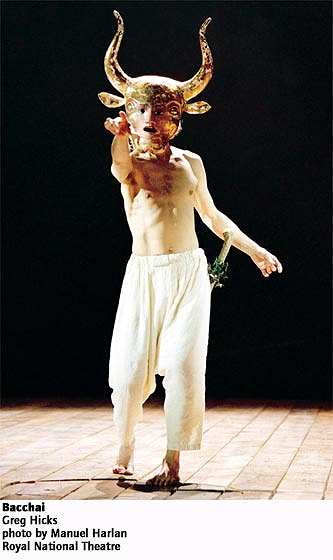 Copyright © 7 June 2002 Roderic Dunnett, Coventry, UK
THE ROYAL NATIONAL THEATRE WEBSITE
SIR PETER HALL TALKS ABOUT WORKING WITH BIRTWISTLE
BIRTWISTLE CATALOGUE AT UNIVERSAL EDITION
BIRTWISTLE CATALOGUE AT BOOSEY & HAWKES
<< Music & Vision home
Lulu >>