We travel some distance from classical music to reach the world of Phill Niblock's Experimental Intermedia Foundation in New York. Founded by Elaine Summers in 1968, EI promotes performance events in New York City and elsewhere, collaborates on projects with similar organisations in other countries and runs its own record label, XI. The back cover of each album explains that 'XI is a series of compact discs highlighting the music of contemporary artist-composers whose works are original and galvanizing. The intent of XI is to extend the experience of these engaging and pioneering works beyond the performance space into the home'.
Simple in concept, the soundscapes of EI's director Phill Niblock (born 1933) consist of long held notes superimposed, drifting in and out of phase. They operate over a long timescale, typically running for at least twenty minutes each. The nine pieces in the collection here occupy three CDs. Most of Niblock's music is for a single performer. Layers or tracks are added to the existing mix in a kind of improvisation, with typically four, eight or sometimes sixteen voices. When listening, the timescale and the quality of the sound are very important -- how and where you listen can have a big effect on the experience, which sometimes involves the perception of other tones, not actually present in the recordings. Hence the short sound extracts here can only serve as a very rough guide.
Following Held Tones for Barbara Held's flute, and one of Niblock's cleaner-sounding pieces, comes Didjeridoos and don'ts [listen -- XI 121 CD1 track 2, 0:02-1:00]. Ulrich Krieger's multi-tracked didjeridoo produces an intriguingly rich and rasping sound, sometimes mysterious and plaintive. The 1993 Niblock disc XI 111 presents pieces using many more voices -- multi-tracked string quartet in Five More String Quartets [listen -- XI 111 track 1, 19:00-20:00] and flute, bass flute, string quartet and computer controlled sampled and synthesised voices in Early Winter.
Where Niblock's down-to-earth music is definitely connected to real performers playing real instruments, the music of Richard Lainhart, performed and recorded by the composer in electronic music studios, sounds very much of ethereal spaces, of floating in the infinite. 'I'm not trying to imitate anything', Lainhart is quoted as saying in the CD booklet, in one of four articles about his music, 'My main concern in these pieces is to present sounds that have never been heard. I'm interested in making sounds that are intrinsically interesting. And beautiful on their own.'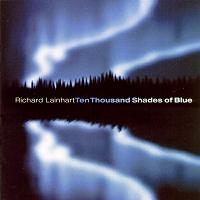 Lainhart's title track, Ten Thousand Shades of Blue [listen -- XI 115 CD2 track 2, 0:00-1:00] from 1985 does have beauty and purity, and was created with SoftSynth, an audio synthesis program which allows the addition of up to 128 sine waves. In other pieces he uses real instruments too -- tam tams, Japanese temple bells, voice, bowed and struck vibraphone, and besides his music, he also creates animations and videos.
The music of Philip Corner (born 1933) springs from expressiveness, indeterminacy (he uses the term 'non-compulsive indeterminacy') and humour. You could call Concerto for Housekeeper, for example, a piano-cleaning piece -- the performer concentrates on the dirty keys! The CD booklet refers to a 'tremendous sensitivity' in his playing. This is there, and there are some beautiful passages, but I find some of this music needlessly noisy and violent. At times (eg Pulse: a 'Keyboard Dance'/C Major Chord) Corner sounds minimalist, but many of the other pieces sound random and disjointed. 'Perfect' (on the strings) [listen -- XI 125 track 9, 4:21-5:21], a fascinating and slightly Nancarrow-like collection of the sounds of balls and round-bottomed objects wobbling amongst the piano strings, stretches my ears more than Corner's other music.
We're journeying in the psychological borderlands of music with XI Records, and what you bring with you in your head and your heart, as well as how you listen, may affect your perception of these experimental sounds.
Copyright © 11 January 2003 Keith Bramich, Worcestershire, UK
YPGPN - Phill Niblock
XI 121 DDD Stereo REISSUE (2 CDs) 78'40"/61'43" - TT 140'23" 2002 Phill Niblock/XI Records
Performers as shown below

Disc 1: Held Tones (1982-4), Barbara Held, flute; Didjeridoos and Don'ts (1992), Ulrich Krieger, tenor sax; Ten Auras (1994), Ulrich Krieger, tenor sax; Ten Auras Live (1994), Ulrich Krieger, tenor sax; Disc 2: A Trombone Piece (1978-94), James Fulkerson, trombone; A Third Trombone (1979-94), Jon English, trombone; Unmentionable Piece for Trombone and Sousaphone (1982-94), George Lewis, trombone and sousaphone
BUY THIS DISC FROM AMAZON
BUY THIS DISC FROM AMAZON
PHILL NIBLOCK
Richard Lainhart: Ten Thousand Shades of Blue
XI 115 ADD DDD Stereo (2 CDs) 72'55"/63'08" - TT 136'03" 2001 XI Records
Performed and recorded by Richard Lainhart

Disc 1: Bronze Cloud Disk (1975), Two Mirrors Face One Another (1976); Disc 2: Cities of Light (1980), Ten Thousand Shades of Blue (1985), Staring at the Moon (1987), Walking Slowly Backwards (1989)
BUY THIS DISC FROM AMAZON
RICHARD LAINHART
40 Years and One - Philip Corner Plays the Piano
XI 125 DDD Stereo 73'01" 2000 XI Records
All compositions played by the composer

7 Joyous Flashes; Concerto for Housekeeper; Short Piano Piece IV; Short Piano Piece IX; Short Piano Piece XIII; Flux & Form No 2 (solo); Flux & Form No 2 (three versions mixed); Pulse: a 'Keyboard Dance'/C Major Chord; 'perfect' (on the strings)
BUY THIS DISC FROM AMAZON
PHILIP CORNER - AN INTRODUCTION
FROG PEAK MUSIC - FOR PHILIP CORNER SCORES
MUSIC BY ELLEN BAND ON XI RECORDS
XI RECORDS
Record Box is Music & Vision's regular Saturday series of shorter CD reviews