<< -- 3 -- Tess Crebbin MUSICAL JOURNEY
Next on the chronological list of this fine partnership is another 1985 recording on Aulos re-release (AUL 68516, 2003), the Cello Sonatas of the Russian Masters (original German title: Cellosonaten Russischer Meister). These are Rachmaninov's Sonata in G minor Op 19 and Prokofiev's Sonata in C Op 119. Rachmaninov had a hard time after the première of his Symphony No 1 (Op 13) in 1897 -- it flopped and the composer had to undergo psychiatric treatment and did not return to composing until 1900, so discouraged had he become. In 1901, he completed his Cello Sonata in G minor, of which one of the unusual features is that both themes in the opening are in the same key.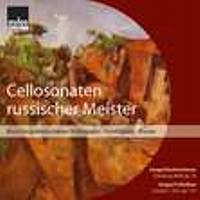 Pergamenschikow, who had a tendency toward melancholia that stemmed, perhaps, from having had to leave behind his beloved city of St Peterburg, is always at his greatest in the minor key, and here he works wonders in the second theme's recapitulation [listen -- AUL 68516 track 1, 7:22-8:48] that appears not as the G major tonic but as an imperfect cadence in the C minor dominant. This leads to an extended coda, also in C minor, which gradually works its way back to the G minor key. While some interpreters seem to harden at the confrontation with the composer's very individualist interpretation of the sonata form, Pergamenschikow seems to love the unorthodox approach and is mindful of intellectual supremacy of a great composer who, with the aid of the Russian virtuoso's cello, is being elevated to new heights through the considerably sorrowful touch that the interpreter caps on this work, and surrounded by Gililov's constructive piano.
The other work on this CD, Prokofiev's C major Sonata, was written in 1949 and provides a tonic-dominant approach by focusing in the C and G notes. The frequent tempi changes make this a difficult work to perform but it seems almost a birthright of these two musicians to sail gracefully even through the most challenging Russian works, as they do in this instance also. This CD is probably one that was closest to the heart of the cellist and pianist, and as such constitutes one of the peak performances of their partnership.
Copyright © 6 October 2004 Tess Crebbin, Germany