<< -- 3 -- Robert Anderson GREAT CHEER
After training in Rome, Victoria as priest and musician joined the community established by S Philip Neri, which was in due course to inspire John Henry Newman to create daughter houses in Birmingham and London. When dedicating in 1583 two books of Masses to Philip II, Victoria expressed a wish to live in his native Spain. It was arranged that he should become chaplain to the king's sister, the Dowager Empress Maria, who had retired to a convent in Madrid. Soon enough Drake was 'singeing the king of Spain's beard', but Victoria continued his tranquil existence as choir master and later organist. Cathedrals sought a musician so distinguished, but he preferred the convent.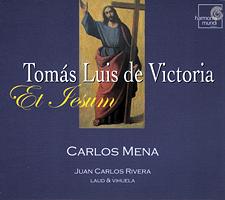 João IV, king of Portugal, admired him greatly, praising the Holy Week music he had written for the Oratorians but claiming that 'his disposition being naturally sunny he never stays downcast for long'. It is so. This CD pays regard to some contemporary transcriptions of Victoria's Latin church music, but the performers have followed a path of their own, choosing movements that appealed and adapting as fancy suggested. Five tracks are for instrument alone, but most are dominated by the clear and expressive countertenor of Carlos Mena, never more happy than in the joyous Duo Seraphim [listen -- HMI 987042 track 2, 0:01-1:28]. Juan Carlos Rivera and his vihuela are shown to advantage in an extract from the Mass 'Quam pulchri sunt' [listen -- HMI 987042 track 4, 0:00-1:08]. Christ's entry into Jerusalem on Palm Sunday is tellingly described in Pueri Hebraeorum [listen -- HMI 987042 track 22, 0:00-1:14].
Copyright © 25 May 2005 Robert Anderson, London UK
Music for Alfonso the Wise
HMU 907390 DDD Stereo NEW RELEASE 71'08" 2005 harmonia mundi usa
The Dufay Collective: Paul Bevan, psaltery, whistle, percussion; Vivien Ellis, voice; Giles Lewin, voice, vielle, oud, rabab, saz; William Lyons, flute, simfony, percussion; Susanna Pell, vielle, rabab, saz; Peter Skuce, harp, percussion

Music for Alfonso the Wise: Muit, amar CSM36; Ontre todalas CSM323; Tant aos peccadores CSM315; Todo los santos CSM15; Que muyto meu pago CSM263; Quen a Virgen CSM103; Bailemos nós ja todas tres CSM116; Dansa - Bailemos nós ja todas tres; Martin jograr CSM166; Macar e door CSM393; Non soffre Santa Maria CSM159;

Martin Codax: Cantigas de amigo: Ondas do mare de Vigo; Mandad' ei comigo; Mia irmana fremosa; Interlude; Ay Deus se sab' ora meu amigo; Quantas sabedes amar; Interlude / Eno sagrado en Vigo; Ai ondas que eu vin veer
BUY HMU 907390 ONLINE
Tomás Luis de Victoria: Et Iesum
HMI 987042 DDD Stereo FIRST RELEASE 65'00" 2003 harmonia mundi ibèrica sa
Carlos Mena, countertenor; Juan Carlos Rivera, laud and vihuela; Francisco Rubio Gallego, corneta

Tomás Luis de Victoria (1548-1611): Et Iesum; Duo Seraphim clamabant; O Decus Apostolicum; Domine (Missa Quam pulchri sunt) (vihuela solo); Senex Puerum portabat; Magi viderunt stellam; Domine, non sum dignus; Domine, non sum dignus (vihuela solo); O magnum mysterium; Sanctus, Benedictus and Agnus Dei (Missa O magnum mysterium); Ne timeas Maria; Pleni sunt (Missa Gaudeamus) (laud solo); Iste Sanctus; Estote fortes in bello; Alma Redemptoris Mater; Domine Deus (Missa Gaudeamus) (vihuela solo); O quam gloriosum; Doctor bonus, amicus Dei; Crucifixus (Missa Quam pulchri sunt) (vihuela solo); Pueri Hebraeorum; Salve Regina
BUY HMI 987042 ONLINE