Lieder's Dynamic Duo

BENJAMIN IVRY features Mitsuko Shirai and Hartmut Holl
<< Continued from yesterday
Performing live, with or without Fischer-Dieskau, Holl bristles with energy and daring, relatively unconcerned with the occasional slip, or what German musicians call the 'blue notes'. With Shirai, he is a dedicated rehearser, enjoying the long sessions as much if not more than performances. This intense preparation allows them to let go and be spontaneous in the concert hall and recording studio.
An essential part of their achievement on CD has been the collaboration of the artful sound engineer Teije van Geest, based in Heidelberg. Van Geest has worked on a number of vast projects, like the fabled Harnoncourt-Leonhardt series of Bach cantatas, and he is a musician of high integrity as well as sensitivity. Like Shirai and Holl, he has seemingly infinite patience to get things right. This is in strict contrast to many lieder CDs produced, particularly by major labels, which are often live recordings captured by radio engineers. Not only are these radio recordings in sometimes spotty sound, but they reflect a number of flaws which are not outweighed by so-called spontaneity. Shirai and Holl's studio recordings glisten with spontaneity, as well as featuring ideal sound and the kind of craftsmanship all too rare in the record industry today. For these achievements recognition is also due to Winifred Ammel, the wise director of Capriccio, who has allowed Shirai and Holl to pursue their artistic path in an unhurried manner, producing a CD or two each year. When listened to as a group, the result is truly extraordinary, truly comparable to the precedents of Pears-Britten and Bernac-Poulenc, and there can be no higher praise.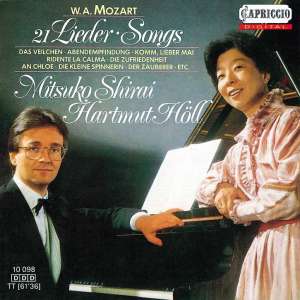 In 1986 they produced a CD of Mozart lieder that immediately revealed the kind of artistry they were aiming at. Shirai's voice was at the time a light mezzo. It has grown in strength and body since. But solidly present were her dramatic sensibility and extraordinary capacity to invest language with emotion. She has accurately been called a Callas of classical song. The opera diva could accent a single word, like 'ma' in Rosina's aria in The Barber of Seville. Likewise, again and again, Shirai illuminates the German language in a way excessively rare for someone not born in that country. Indeed, her German is by now more fluent than that of native-born people. Mozart's spooky, mournful, tragic masterpiece of a song Abendempfindung requires a sense of spirituality that is rarely given to any performer. A memento mori of a song, it has an otherworldliness along with sensuous indulgence that is Mahlerian avant la lettre. Shirai hits this note just right, singing of how 'life's pilgrim journey is ending' with a ghostly imaginativeness that might be obscurely linked to her Japanese heritage and No theatre. Although herself very much a German artist, Shirai does seem at times to contain multitudes, like all great interpreters. The only recent singer to capture the oddness of Mozart's graveside song is the countertenor Jochen Kowalski, who on a CD of lieder also for Capriccio, sang of the pilgrim journey with a kind of ecclesiastical or monastic fervor as spooky as it is bizarre.
Also in 1986 appeared a Schumann CD featuring the song cycle Liederkreis op.39, and here again the wild emotions of the romantic German woodlands are perfectly captured by the duo. Shirai sounds authentically bereft when she sings of how 'father and mother are long dead...no one knows me here' in the song In der Fremde. Just as stirring is Holl's playing - wild expressivity, an ideal in some Schumann works. I still recall seeing a performance of the George Balanchine's 'Schumann's Davidsbundlertänze' at a time when the great choreographer was still alive and his company had not yet become the sad travesty it is now: the Danish dancer Adam Luders captured a rawboned grotesquerie akin to figures drawn by the strange, anguished German artist Hans Baldung Grien, and this style suited Schumann's northern angst exactly. Holl, although born in Swabia, has long frequented northern parts of Germany and the rest of Europe, and intimately understands the hysteria latent in some of the artistic works of this region.
Copyright © 19 March 2000 Benjamin Ivry, New York, USA