A Feast of Summer Opera

with RODERIC DUNNETT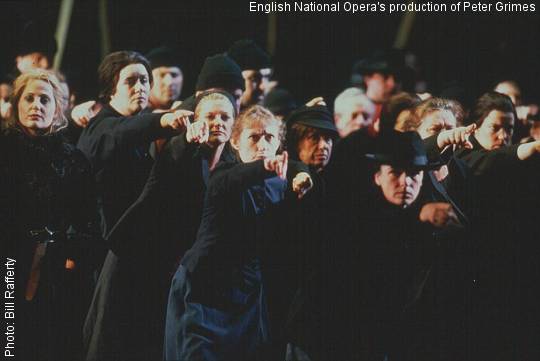 Benjamin Britten's festival at Aldeburgh, now under the capable young composer Thomas Ades' direction, takes a new direction this year with a tribute to a master who surely merits a South Bank retrospective in his own right : Ferruccio Busoni. Ann Murray heads the cast in Busoni's opera Turandot (l9l7/21) - which predated Puccini's by several years - at Aldeburgh's Snape Maltings Concert Hall on Monday 19 June. The conductor is Paul Kildea. Britten himself gets several airings : Paul Daniel directs two concert performances at Aldeburgh of ENO's recent production of Peter Grimes, with Robert Brubaker as Grimes and Susan Chilcott as Ellen Orford, on Fri 23 Jun and Sun 25 (matinee, 3 p.m.). Gloriana receives two performances, on Thu l0 and Fri ll Aug, at the St.Endellion Festival in North Cornwall, an event which under Richard Hickox's energetic direction has produced some inspired concert performances of opera in recent years : Peter Grimes, Fidelio, The Rake's Progress, and perhaps above all Vaughan Williams's The Pilgrim's Progress. Gloriana can also be seen on BBC Two TV over the Easter Weekend, in a specially filmed version of the acclaimed Opera North production directed by Phyllida Lloyd, with Dame Josephine Barstow in the title role and Paul Daniel, former music director of Opera North, conducting. Brighton Festival sees two performances (Thu ll and Sat 13 May) of The Turn of the Screw, in addition to the Southwark Playhouse's touring production of John Adams's I was Looking at the Ceiling and then I Saw the Sky on Sun l4. Broomhill Opera will also be staging The Turn of the Screw : they served up an immensely successful production in their former incarnation at Tunbridge Wells.
Following the Royal Opera's Flying Dutchman, Camberwell Pocket Opera's compact (though scarcely short) version of Tristan and Isolde can be caught at the BOC Covent Garden Festival on Mon 22 and Sat 27, both at the early start time of 5.00. Meanwhile Wagner's Ring Cycle is now in its third year, staged in German in the beautifully lucid acoustic of Longborough Festival Opera, near Stow on the Wold in Gloucestershire. This summer sees the long-awaited addition of the new Siegfried (23 June). WNO stalwart and Reginald Goodall protege Anthony Negus takes over the conducting, Jenny Miller continues as Brunnhilde and the fledgling homicidal Siegfried is sung by Matthew Elton Thomas. Longborough's casting has proved largely inspired : Peter Bronder comes in as Mime, Lisa Tyrrell should make an ideal Woodbird, ENO's Mark Richardson continues his grisly Fafner, and Nicholas Folwell his admirable, vocally and visually dominating Alberich. Alan Privett directs both Siegfried and the revived Walkure. The two can be seen in tandem on Sunday 25 June. Both Siegfried and Walkure (in the City of Birmingham Touring Opera rescoring by Jonathan Dove) are performed without intervals.
Following Covent Garden's concert performances of La Battaglia di Legnano (with Domingo as Arrigo and Mark Elder conducting), Verdi resurfaces in Court Opera's outdoor staging of Aida, mounted with a huge chorus in Dorset's only Roman Amphitheatre, Maumbury Rings, on July 1 and 2; and Stowe Opera's production of Il Trovatore (from 5 Aug), which follows their resourceful recent productions of Eugene Onegin, Lucia di Lammermoor and Traviata. Like those, Il Trovatore will be conducted by Stowe's artistic director, Robert Secret.
South America also gets a look in, not only in two performances at the BOC Covent Garden Festival of Argentinian tango supremo Astor Piazolla's opera Maria de Buenos Aires, staged at the Peacock Theatre (Fri and Sat, 2 and 3 June), but in this summer's imaginative offering from Dorset Opera, which celebrates the quincentenary of the Portuguese colonisation of Brazil with the little-heard Salvatore Rosa, by the leading l9thC Brazilian composer Carlos Gomes (l836-96). The occupying power itself - Portugal - gets a look in with L'Amore Industrioso, by Joao Carvalho (1742-98), at Holland Park (see above).
There is also lighter fare : University of Kent Summer Opera gives four performances (from Tue 27 Jun) of The Beggar's Opera (in the Britten realisation) at the Gulbenkian Theatre in Canterbury. The entertaining National Youth Music Theatre perform their already successful The Ballad of Salomon Pavey - the boy actor to whom there are intriguing references in Nick Wright's Cressida, starring Michael Gambon, at London's Albery Theatre - at Newbury Spring Festival (May) and give three performances at the BOC Covent Garden Festival of Sondheim's Into the Woods (Sat 27 May, Mon 29, matinee Sun 28 at 2.30). At the same festival there is a concert performance (Tue 23 May) of the musical about Don Quixote, Man of La Mancha. And on the Operetta front, two versions of The Merry Widow will be on offer in Southern England : a production by Court Opera, which can be seen in Wimborne (Aug l8), Yeovil (Sep 26) and at Hever Castle in Kent (14 and 26 Aug); and the Opera della Luna production, which visits the Arundel Festival in Sussex (Sun 27 Aug, 6.30pm in the open air theatre, Arundel Castle).
Travelling Opera and Festival Contact Details >>
Copyright © 12 April 2000 Roderic Dunnett, Coventry, UK

<< Music & Vision home
Recent operas >>