Global Fascinations and Sophistications
Stefan Jess and Barbara Moser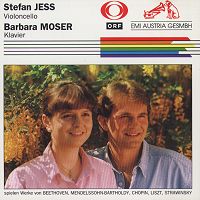 Leighton House, South West London is a popular venue for recitalists to perform in surrounded by the great man's paintings and its black and gold decor. Yonks ago, I heard two young Austrian artists, Stefan Jess, cello and the lovely Barbara Moser, piano. Somehow, the CD release by EMI Austria found itself on a pile awaiting review, but as usual with the glossies they ignored my urgent requests to cover it at the expense of too many contributions. Playing it again, I have no doubts that it is thoroughly worthy of inclusion in my series.
The programme, an usual one, consists of Beethoven's two sets of Variations from Mozart's Die Zauberflöte, Op 66, WoO46 respectively, Mendelssohn's Variations concertantes Op 17, Chopin/Franchomme Grand Duo Concertant on themes from Meyerbeer's 'Robert le diable' [listen -- track 4, 8:19-9:19], Liszt's La Lugubre Gondola, in the cello/piano version and Stravinsky's Suite Italienne. Booklet photos show the couple in playful mood, and there is this wonderful sense of conviviality in their playing that denotes two musical minds in one accord. Moulded balancing of parts produces a repartée that brings the musical spirit alive without forcing undue attention on the bravura aspects. A delightful disc.
Copyright © 1 November 2000 Bill Newman, Edgware, UK
CD INFORMATION - EMI AUSTRIA CDC5 55159 2
<< Music & Vision home
Lortie and Pehlivanian >>
To listen to the aural illustrations in this review,
you may need to download RealNetworks' realplayer G2.