RESPLENDENT PANOPLY
RODERIC DUNNETT experiences the Chisinau National Opera
Giuseppe Verdi's Aida suggests big venues : Verona, The Pyramids, Rome's Baths of Caracalla. The impressive Chisinau National Opera production which recently toured the UK, is conceived on a massive scale : to tour it to smaller venues was a feat in itself.
Chisinau fields some of the finest singers trained in the former Soviet Union. On tour it faced a few staging problems -- part inevitable, part avoidable -- and some unnecessary droops in tension while sets were set up or adjusted. The visual impact was pretty striking nonetheless, and Nicolae Dohotaru, the company's Music Director, drew some of the best playing I have heard yet from his -- when they set their minds to it -- fine orchestra.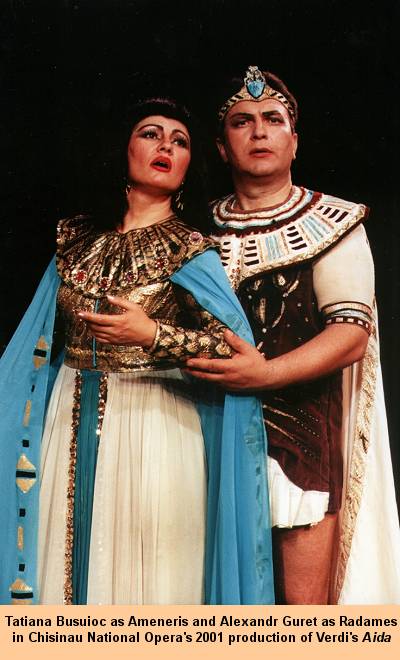 Where does one begin? Here was a cast with -- vocally at least -- not one weak principal. True, the chorus entries were shuffling; yet once onstage the choruses, without exception, were never less than thrilling. Radames (Alexandr Guret), despite his nobly struck attitudes, never quite looked like a general; but the resplendent panoply around him carried him through; his triumph was superb. And the voice, regardless of all, was splendid. The Priest, Ramfis (Vitalie Cires and Valeriu Cojocaru alternated the role) was likewise superbly sung : so magnificent, in fact, one imagined oneself in Boris Godunov or Khovanshchina. Four masked, dancing children created a vibrant atmosphere.
Copyright © 4 February 2001 Roderic Dunnett, Coventry, UK
<< Music & Vision home
Pelléas et Mélisande >>