<< -- 2 -- Roderic Dunnett RESPLENDENT PANOPLY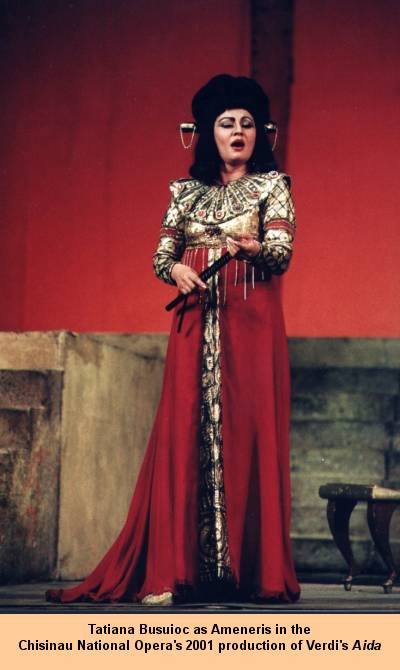 The women established themselves at the outset. Amneris (the Odessa-trained Tatiana Busuioc, an unforgettable Suzuki in Butterfly, which returns to England later this year) is a singer of world stature : her aria (with fine soli from clarinet and cello) was an early highlight : the ensuing embittered duet and subsequent trio, with Melania Ghioalda's yielding and poignantly involving Aida, were vivid. Here was an exchange that could have been straight out of Pikovaya Dama or Onegin - just as the aching strings in Aida's vexed soliloquy felt like a dress rehearsal for Tchaikovsky's Pathétique.
Once the fuss over erecting a two-dimensional statue of the Egyptian god Ptah was over (the orginal design for Chisinau was awesomely impressive), the female chorus demonstrated its superbly honed talents yet again. The men, too, in their (here) Orthodox-sounding hymn, achieved a melting piano en masse; the Chisinau chorus has some fine tenors as well as basses, and they sang with pleasing restraint. The young dancers (from the Northern Ballet School, marvellously disciplined and superbly plotted) again entranced. The Chisinau brass -- both trumpets and trombones -- came into its own for the ceremonial commissioning of Radames. The merging of the two choruses -- the oriental weavings of the women and the martial assertion of the men -- was a breathtaking moment.
The women's chorus again shone as Amneris took a bath -- a beautiful conceit, presented in silhouette, and offset by a mesmerising ballet from the youngsters.
Copyright © 4 February 2001 Roderic Dunnett, Coventry, UK
<< Music & Vision home
Pelléas et Mélisande >>