Music all the time

BILL NEWMAN
becomes reacquainted
with young French cellist
Gautier Capuçon
Music & Vision readers may remember me eulogising about a performance of Kodály's Sonata for Solo Cello at the 2000 Berlin Festival. The artist -- one of three cellists in one concert, and standing in at short notice for Heinrich Schiff -- was Gautier Capuçon, born 20 years ago in Southern France, and now living in Paris.
I caught up with him six months later when he played at London's Wallace Collection, the first of a series of Sunday morning concerts at the celebrated art gallery devoted to promoting further interest in the outstanding contingent of young international talent. Gautier gave me his promotional CD that includes a performance of the Rachmaninov Sonata with his regular partner Jérôme Ducros. We talked briefly, but he had a train to catch.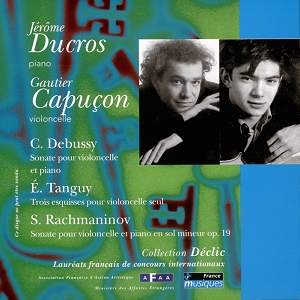 Imagine my delight when I was told he was going to replace another 2001 Spoleto Festival artist who had injured his shoulder. As partner to pianist Jean-Yves Thibaudet in the Rachmaninov, and as chamber music colleague to other young musicians, his wonderful playing would make a firm impression on members of the audience.
Copyright © 18 April 2002 Bill Newman, Edgware, UK
BILL NEWMAN AT THE 2001 SPOLETO FESTIVAL
BILL NEWMAN AT THE 2000 BERLIN FESTIVAL
<< Music & Vision home
Larry Sitsky >>