<< -- 4 -- Roderic Dunnett BEAUTIFULLY TOGETHER
This was a good Traviata, and even a memorable one. You could tell it from the orchestral playing. Take the opening violin passage, sounding for all the world like Lohengrin (which dates from 1850, just a few years earlier), for which Skibinskiy produced some superb triple piano playing, with cello and the fateful clarinet gradually folded in; almost Mozartian floating woodwind in Alfredo's music early on; the smidgeons of staccato, then pizzicato, violin, superbly controlled, at the close of the first Violetta-Alfredo duet; and semi-staccato strings plus soft woodwind (notably some beautifully poised clarinet playing) near the first act's close.
Likewise in Act II: the string pizzicati that underscore Violetta's response to Germont père, desolate solo clarinet for her tears, and buzzing tremolos in low strings for Alfredo's 'io tremo'; the Gypsy (and Hispanic) dances with excellent women's chorus (a bit jarred by suspect tympani tuning); skedaddling strings as the men embark on their card-gambling; lightly whooping flutes, taken up by the oboes; or the desolate clarinet of the broadly taken last section.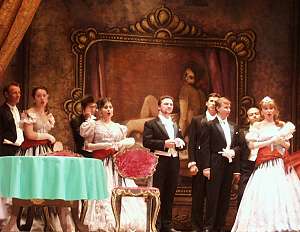 And again, in Act III, a sad Ukrainian tinge from the pathos-ridden opening violins, as if we were overhearing music on the banks of Oka or Volga; woodwind in lugubrious thirds (oboes and clarinet); plus the melting violin solo, and its tragic reprise near the end.
Copyright © 27 June 2002 Roderic Dunnett, Coventry, UK
ELLEN KENT AND OPERA INTERNATIONAL
RODERIC DUNNETT'S REVIEW IN 'THE INDEPENDENT'
VERDI'S LIFE AND TIMES