<< -- 2 -- Howard Smith PIVOTAL OCCASION
In compliance with an official Kazakh request the British visitors performed under the direction of energetic, prizewinning Almaty-trained conductor Alan Buribayev, son of noted concert cellist Askar Buribayev and from the outset this genial 20-year-old bounded into his task with irresistible aplomb.
On the eve of the concert Bisengaliev and orchestra representatives met and fielded questions from an excited crush of reporters, television crews, curious well-wishers and supporters plus a small contingent of British music press. TV reporters had arrived from as far away as the Kazakhstan capital, Astana, some 1500 km to the north.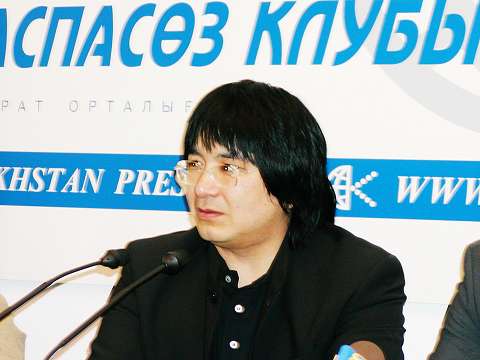 The first of two rehearsals began with a sizzling Russlan and Ludmilla overture; an immediate clue to the character of this one-off concert. Meanwhile technicians peppered some dozen microphones throughout the orchestra, five or six stage and auditorium camera teams vied for positions, and a giant head and shoulders portrait of the star, Bisengaliev, hung against the back stage curtain.
Copyright © 23 June 2002 Howard Smith, Masterton, New Zealand
MARAT BISENGALIEV'S WEBSITE
HOWARD SMITH'S WEBSITE