<< -- 3 -- Howard Smith PIVOTAL OCCASION
In the luxury of his Hyatt Regency hotel suite Bisengaliev received constant attention. Between times he tinkered delightedly with a quality laptop; on its screen Bryn Terfel and Cecilia Bartoli. Periodically he tried out snatches of the forthcoming programme. Then Khadisha, his Kazakh manager, massaged away the effects of the long overnight flight.
For this unprecedented event fifteen or twenty unsmiling Group 4 security staff prowled suspiciously around The Palace of the Republic; monitoring all entrances, exits and corridors; for all the world like extras from a third rate American 'Cold War' made-for-television movie.
To gain final admittance I carried a hand-written note in Russian, written by the star performer. 'If you don't get in,' he joked -- 'we don't start.' I had visions of holding up both the RPO, an auditorium of music lovers, and Almaty's intelligensia.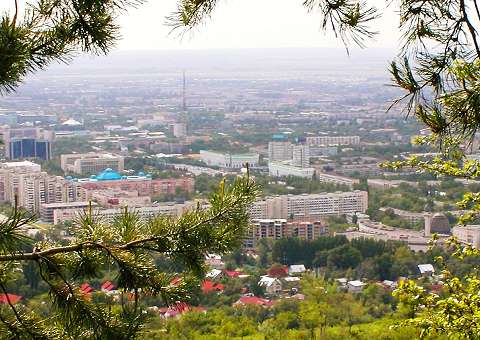 Copyright © 23 June 2002 Howard Smith, Masterton, New Zealand
MARAT BISENGALIEV'S WEBSITE
HOWARD SMITH'S WEBSITE