Delayed Reaction
Sondheim's 'Merrily we roll along',
reviewed by MIKE WHEELER
Given its chequered history (its first Broadway run closed after only sixteen performances) and problematic reputation, Merrily we roll along was not the most obvious choice as a follow-up to Karen Louise Hebden's string of hugely successful Sondheim productions at Derby Playhouse (Into the woods, 2006, and Company, 2005, not to mention Stephen Edwards' equally successful Sweeney Todd, 2004). But that choice has been amply vindicated by this dazzlingly polished and energetic staging (seen on 19 April 2007).
It's a show about youthful idealism being overtaken by ambition, compromise and betrayal, as we watch the apparently impregnable friendship of Frank, Charley and Mary unravelling over a period of twenty years or so. The twist is that the turning points in the story are presented in reverse order, following the George Kauffman/Moss Hart play on which the show is based. This has prompted much head-scratching in the past, but presented in a conventional forward sequence it would have been just too bitter to swallow; instead it moves towards a positive ending made gut-wrenchingly poignant by the future events we've already witnessed.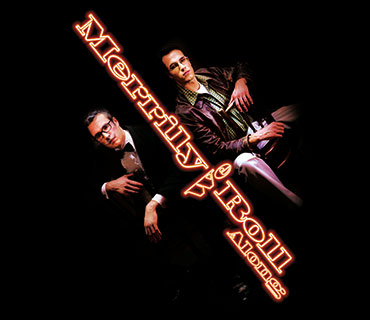 The production follows most recent revivals in dispensing with the original version's opening and closing college scenes and their anthem-like number 'The Hills of Tomorrow'. So we start in 1976 at a Hollywood party, in all its back-stabbing, bitchy awfulness. Forty-something Frank has abandoned his musical gifts for the glitzy life of a film producer. A thoroughly sozzled Mary, a published writer who has nursed an unrequited passion for Frank all these years, tells one home truth too many and Frank throws her out. To make the evening complete, his marriage to Gussie breaks up over his mistress, Meg.
Copyright © 23 April 2007 Mike Wheeler, Derby UK