PUNCHY AND INFORMATIVE
John Bell Young's survey
of the Beethoven Symphonies,
read by GERALD FENECH
The never ending fascination with Beethoven's symphonies continues apace and with this short but fine book, one can truly appreciate the masterpieces for yet another time. John Bell Young writes in a punchy and informative style and his descriptions of the symphonies are a joy to read whilst actually listening to the symphonies in tandem.
The first two chapters are of a generic nature, a detailed introduction, a chapter on 'Intonasia' or the art of listening and another called 'Context and Significance' discussing the actual impact and importance of the symphonies in the development of symphonic thought and form.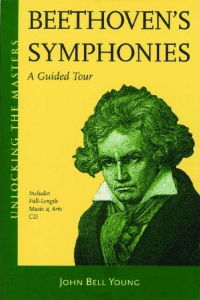 However once you start reading about the works themselves, the thrills and spills abound. Bell Young dedicated quite a few pages to the First Symphony which is deemed extremely important in Beethoven's development. Predictably the Third, Fifth, Sixth and Ninth are given the most pages and the descriptions are beautifully appropriate and not too technical in nature.
To sum up then, a fine book which will enrich anyone who wishes to delve deeper into these immortal masterpieces. The only pity is that the review copy provided had a different CD than that advertised. But if you have any self-respecting Beethoven cycle, the enjoyment is more than complete.
Copyright © 6 September 2008 Gerald Fenech, Gzira, Malta
Unlocking the Masters:
Beethoven's Symphonies - A guided tour

John Bell Young

Amadeus Press, 2008
ISBN13 978-1-57467-169-8
xx+132 pages, paperback