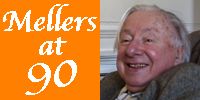 Wilfrid Mellers at M&V
Wilfrid Mellers was born on 26 April 1914 and educated at Cambridge University, where he read English, and then music. Composition, however, he learned mostly from Edmund Rubbra and Egon Wellesz. After World War II he taught at the universities of Cambridge and Birmingham, and in the early sixties at Pittsburgh University. From 1964 until his retirement in 1981 he was founding Professor and head of the Music Department in the University of York.
His composition mostly fuses the genres of 'classical', folk, jazz, and even pop musics. He published many books, including major studies of Couperin, Bach and Beethoven and others, together with an extensive corpus of journal articles.
Wilfrid Mellers died on 17 May 2008, aged 94.
The articles below, all either by or about W H Mellers, are listed in order of publication in Music & Vision, most recent first.
Sundry talents, or the importance of laughter
Wilfrid Mellers talks to Keith Bramich
Seeing Music Whole
Wilfrid Mellers at ninety - an appreciation by Peter Dickinson
Scrutiny
Gordon Rumson investigates Mellers' early writings, 1936-1949
Celestial music
Gordon Rumson explores sacred and secular in the writings of Wilfrid Mellers
Music matters
Gordon Rumson reads Mellers' book
Singing in the Wilderness: Music and Ecology in the Twentieth Century
The rough and the smooth
CD reviews - Missa Mexicana; John McCabe plays Herbert Howells
(Second Sight - Music with Wilfrid Mellers)
From the heart
a tribute by Peter Dale to Wilfrid Mellers for a unique life of music and letters
Magic and Innocence
A double bill at Opera North
(Second Sight - Music with Wilfrid Mellers)
A wizard at the keyboard
Marc-André Hamelin plays Alkan
(Second Sight - Music with Wilfrid Mellers)
Mimi's Fate
Opera North's 'La Bohème'
(Second Sight - Music with Wilfrid Mellers)
Civilisation and the Savage State
Janácek's 'Vixen' at Opera North
(Second Sight - Music with Wilfrid Mellers)
Touching Touch-pieces
Bach's Seven Toccatas for Harpsichord
(Second Sight - Music with Wilfrid Mellers)
Time and Truth
A new recording of a Handel oratorio
(Second Sight - Music with Wilfrid Mellers)
Celestial Voices
An early songbook on CD
(Second Sight - Music with Wilfrid Mellers)
A Double Man's Last Harvest
Vaughan Williams' Symphonies 8 and 9
(Second Sight - Music with Wilfrid Mellers)
Private passion and public hauteur
'Eugene Onegin' at Opera North
(Second Sight - Music with Wilfrid Mellers)
Resuscitation
Reinhard Keiser's 'Croesus' - enthusing over an event in recorded opera
(Second Sight - Music with Wilfrid Mellers)
The Tyrant as Hero
Reflections on a Handel opera (Silla)
(Second Sight - Music with Wilfrid Mellers)
The tragic dimension
Pelléas et Mélisande at Opera North
(Second Sight - Music with Wilfrid Mellers)
Stylized subtleties - Campra emerges
(Second Sight - Music with Wilfrid Mellers)
The Sun King - Lully's musical homage
(Second Sight - Music with Wilfrid Mellers)
Copland's centenary
(Second Sight - Music with Wilfrid Mellers)
Spiritual truth
Wilfrid Mellers discusses Opera North's production of Radamisto
Beauty and Pleasure, Time and Disillusion
Wilfrid Mellers examines Handel's oratorio Il Trionfo del Tempo e della Verità
The dizzy sixties
Wilfrid Mellers listens again to George Crumb
Stringent Economy
Satie Ballets CD review
The Mini-master
Satie book review
Baroque Sound-Bites
Book and CD review
The Gentleman
Thomas Campion CD review
Nature and Nurture
Janácek CD review
'Then and Now' - Villon to Rabelais
CD review
Czech music
Fibich symphonies CD review
English Country Tunes
Finnissy CD review
Harmony: functional and dysfunctional
Music & Vision's opening feature