ORCHESTRAL POLYPHONY

'... a "dream" performance, magical, sensuous, dramatic in turn, marvellously controlled during every gear change.'
Admiring Suk's use of the orchestra -
with BILL NEWMAN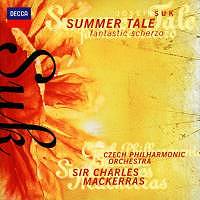 Josef Suk's music is regarded as very special in his homeland Czechoslovakia, but unless you have been collecting past recordings of A Summer Tale (1907-9, praised by Mahler) by Karel Sejna and Libor Pesek you may be unfamiliar with the music due to the paucity of live performances elsewhere. Flanked by Asrael Symphony, Ripening and Epilogue, each revolve around different stages of man's maturity combined with the forces of nature. On Naxos budget-line, Andrew Mogrelia and the Slovak Radio Symphony sadly don't compete, but Sir Charles Mackerras - dedicated disciple of Vaclav Talich and Karel Ancerl - with the Czech Philharmonic come up with a 'dream' performance, magical, sensuous, dramatic in turn, marvellously controlled during every gear change.
Voices of Life and Consolation - (Sejna's metric beat, 14' 37" countered by Mackerras's smoother flowing style,13' 36") - steadily climbs to a phrase peak in strings, brass, percussion (3' in), then simmers down for cor anglais, flute, clarinet solos, phrase turns suggestive of bird cries [listen - track 1, 4:50-5:55]. Suk exploits his forces with great skill and imagination - trumpets high up, horns between, timpani marking the pulse, an idyllic central section - solo violin merging with harp, horns, trombones - a foretaste of the work's final section.
Noon interweaves a langourous folk-like melody - piccolo and bass clarinet with decorations - against pianissimi upper strings and low bass chords. Soft-toned trumpets and horns enter, menacing minor-key interchanges leading to high flute and muted trombones at the close. Suk was often moved by entertainers he met on his travels. Intermezzo - Blind musicians - originally intended as an extra movement to the earlier Fairy Tale - has two cor anglais and two harps threading their sad lament ; solo violin and viola joining forces.
Copyright © 9 July 2000 Bill Newman, Edgware, UK
CD INFORMATION - DECCA 466 443-2
PURCHASE THIS DISC FROM AMAZON
PURCHASE THIS DISC FROM CROTCHET
VISIT THE DECCA WEBSITE
<< Music & Vision home
Jennifer Paull >>
To listen to the sound extracts in this review
you may need to download a RealNetworks realplayer.