ORCHESTRAL POLYPHONY

Admiring Suk's use of the orchestra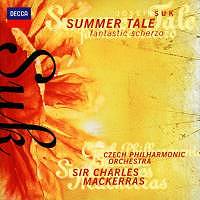 In the power of phantoms is pure theatre, placing even Berlioz, Dukas, Mussorgsky and Lyadov in the shade. Incandescent, swirling violin configurations and semitone warning motifs in winds, set the scene with wild, leaping cadences (reminiscent of Macbeth's witches) for a solo trumpet call straight out of hell. Suk's deviations have atonal characteristics - listen to the instrumental build-up over repeated string figures. The central climax [listen - track 4, 3:10-4:11] demonstrates the superb quality of Decca's engineering - the incomparable James Lock, of course - at the fade-away you decipher every pianissimo note on bass clarinet.
The composer uses an identical palette of instrumental colourings for his glorious finale - Night. Mahler's 9th symphony (1909-10), and unfinished 10th with Cooke's completion, are the obvious points for comparison. Ascending violins (just 35" in, 8' at full strength [listen - track 5, 7:54-8:44]) provide key change links for every fresh surge of richly-harmonised string melody. In effect, this main subject becomes Suk's reaffirmation of faith in mankind. Subsidiary material leads to other resemblances, i.e. 6' 20"-6' 36" where the delicacy of scoring suggests Bax. The work reaches a state of calm acceptance during the final coda.
The earlier Fantastic scherzo, a party piece for Czech conductors, is by no means a slender work as its title suggests. Akin to Dvorak's Scherzo capriccioso in many respects, it is even more full of harmonic daring. This is my 'Desert Island' disc.
Copyright © 9 July 2000 Bill Newman, Edgware, UK
CD INFORMATION - DECCA 466 443-2
PURCHASE THIS DISC FROM AMAZON
PURCHASE THIS DISC FROM CROTCHET
VISIT THE DECCA WEBSITE
<< Music & Vision home
Jennifer Paull >>
To listen to the sound extracts in this review
you may need to download a RealNetworks realplayer.