Luiza Borac
In April 2001 the Romanian pianist Luiza Borac recorded Schumann's Kinderszenen Op 15 and the Etudes Symphoniques Op 13 in St Dunstan's Church, Mayfield in the UK. This recording has been acclaimed by musical insiders as one of consummate artistry and as a result it has now been privately pressed as a limited edition. If you are interested in obtaining a copy then the e-mail address to contact is shown below.
Luiza Borac has within the past six weeks won the first prize in the 'Concours Grieg' competition in Oslo, as well as the audience prize. As a result this fine artist is now beginning to acquire the international recognition which her performances so richly deserve.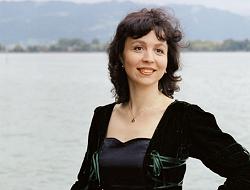 Luiza's work has already been mentioned at M&V and those who were lucky enough to acquire the limited-edition CD of the recording of a public performance which she gave at Münster in Germany several years ago treasure the transparency of her playing and the musicality of her interpretations. Her new recording adds weight to the view that this is one of the really great artists of the future.
Information: borac_cd@crossflight.co.uk (email)
Posted: 29 October 2002
Next item:
Whilst Music & Vision strives for accuracy in everything published,
we can accept no responsibility for textual inaccuracy.