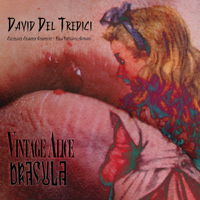 David Del Tredici: Vintage Alice; Dracula

innova 669

Stereo
FIRST RELEASE

Playing time: 47'40"
Tracks: 14
© 2008 American Composers Forum
Reviewer: Patric Standford
Review of David Del Tredici: Vintage Alice; Dracula published on 17 September 2012

Hila Plitmann, soprano
Cleveland Chamber Symphony
David Del Tredici, conductor

David Del Tredici (born 1937):

Vintage Alice (1972) - fantascene on 'A Mad Tea Party' drawn from Lewis Carroll's Alice's Adventures in Wonderland'

1 Narration
2 First Evocation of the Queen
3 Cadenza I
4 The Mad Hatter's Song: Verse I - The Star: Verse 1 - The Star: Verse II
5 Second Evocation of the Queen
6 Cadenza II
7 The Mad Hatter's Song: Verse II
8 Interlude
9 Changing Places
10 Cadenza III
11 Quodlibett - Return
12 Hymn to the Queen
13 Sleeping-Coda

14 Dracula (1999)

There may not seem to be much of a connection between the worlds of Alice in Wonderland and Dracula. Geographically speaking they are as far apart as Oxford and Transylvania; Hormonally, there is no comparison. Even their beverages of choice - tea and blood, respectively - celebrate different themes. Yet both legends deal with the curiosity of nineteenth century young virgins, and, pertinent to the present case, both have been set to music by the grandmaster of gothic Neo-Romanticism himself, David Del Tredici (born 1937). In these settings for soprano-narrator and chamber orchestra, he conducts the Cleveland Chamber Symphony with the emotionally charged Hila Plitmann as soloist.

Vintage Alice (so named because it was commissioned by the Paul Masson Winery) dates from 1972 and is the fourth of his treatments of Lewis Carroll's Alice books. It focuses on the Mad Hatter's Tea Party scene and you will hear delicious parodies of God Save the Queen and Twinkle, Twinkle, Little Star, more chaotic than a room full of Suzuki students could ever achieve.

Dracula is a setting of the poem by Alfred Corn, My Neighbor, the Distinguished Count, which tells the story from the point of view of the young woman next door. She goes through the usual stages of your typical romance: disinterest, gradual seduction, degradation, rejection, and vampiristic transformation. There are rich undertones to both these stories that make them suitable for audiences of all ages. Del Tredici has captured their innocence and experience both charmingly and creepily.