The Boys
BILL NEWMAN was at
Nettle and Markham's
thirtieth anniversary recital
The 'title' was affectionately dubbed, as a mark of great respect for David Nettle and Richard Markham's wonderful artistry, by the late Dame Moura Lympany, whose own genius is still so sadly missed. Moura, in fact, was being very naughty, according to teacher and critic Bryce Morrison, when she said that they were 'much better than that Spanish (sic!) oh, sorry I mean French duo!' Well, the Labeque Sisters had three lovely, successful flings at this year's BBC Proms. But their calibre of artistry is rather unique and special in their own individual fashion as a duo, particularly among young audiences, out en mass to have a great time.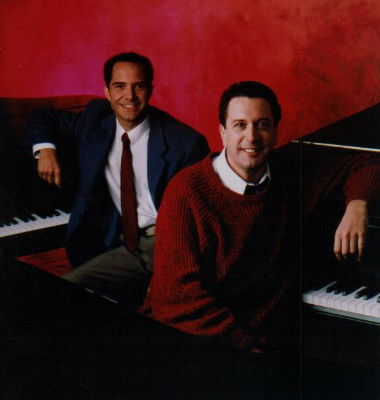 Comparisons tend to be out of date and unnecessary, and speaking for myself I would find it very hard having to miss any of David and Richard's glorious recitals, and have acquired all their commercial recordings, robbing those lovely promotional people at Cadogan Hall of improved CD transfers like Holst's The Planets Suite, Stravinsky's Rite of Spring and Petrushka, and N & M's most recent disc of French Music -- an absolute corker! -- where Saint-Saëns' Carnival of the Animals couples with Ibert's 5 Histoires and Poulenc's Barbar the Elephant. Jeremy Nicholas is the narrator in the first and last. Nine instrumentalists -- all first class musicians -- comprise the backing ensemble. Netmark will obtain the CD for you: NEMACD600 (www.nettleandmarkham.com)
The concert programme [12 June 2009, Cadogan Hall, London UK] was most edifying: Robert Schumann's 3 Canonic Studies, Brahms' Sonata in F minor (a rewrite of his Piano Quintet), Saint-Saëns' Danse macabre, Poulenc's L'Embarquement pour Cythere, Elegie, Capriccio, ending with Ravel's Bolero. Then, for good measure, came the suite from Bernstein's West Side Story.
Our roving ambassadors have lost none of their expertise. A great evening with a reception to follow. I hope to do another interview shortly, but their international audiences come first!
Copyright © 6 September 2009 Bill Newman,
Edgware UK